Access Granted
Article from Komptech Magazine, January 2019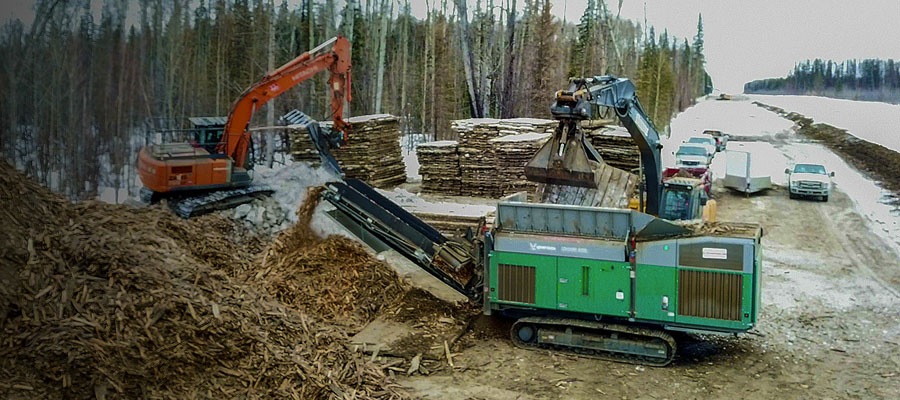 Canadian contractor uses Komptech Crambo to shred access mats and help the environment.
For over 55 years, Chemco has helped build industry across Western Canada as a multi-disciplined contractor providing clients with the services they need to develop and maintain their facilities. This wide range of services is shared across all Chemco companies to ensure flexibility for their clients.
One of the things Chemco provides is cross-laminated access matting. Access mats are portable platforms made of wood that support construction and other machinery on soft ground. Chemco's access mats feature an advanced, environment-friendly design – and when they reach the end of their service life, the company also has an advanced, environment-friendly solution for recycling them. That solution is a Komptech Crambo 6000.
On The Right Track
"For many years, the Chemco Matting management team had strived to find a cost-effective and environmentally friendly way to dispose of access mats at the end of their life cycle," states Derek Schatz, General Manager at Chemco. "We tried many things, from incinerators and grinders to local companies with shredders. However, none of them were efficient enough to make economic sense. Once we tried the Komptech Crambo 6000 shredder with a variety of screens, we knew we were on the right track."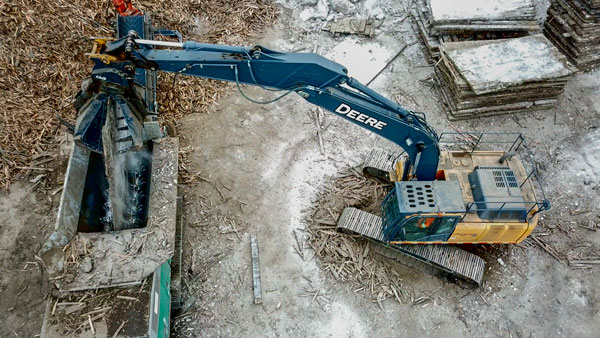 The Komptech Crambo shreds old access mats.
The Crambo's 600 HP C18 Caterpillar engine and 134 aggressive teeth chew up an access mat in about a minute. The shredded wood can then be used for biofuels, absorbents, mulch, etc. Chemco's Crambo has two magnets that separate ferrous metals for recycling. The company also screens to control for output sizing from 2-inch to 24-inch. "This machine not only disposed of a 5.9 inch thick, 2.7 yard wide X 4 yard long access mat in under one minute, it did it without even working up a sweat. The fuel economy is very high, and with the low maintenance it was very easy to offer our customers a further price reduction for disposing of their old matting inventory," explains Schatz.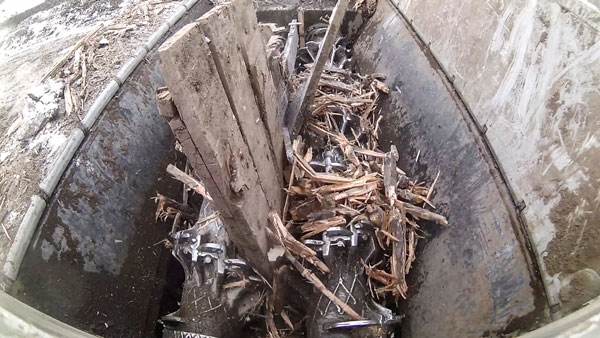 The Komptech Crambo 6000 shredder efficiently processes used access matting
A Big Change
The Crambo was central to a big and environment-friendly change in how Chemco deals with old access matting. In the past, the mats were hauled away for disposal in landfills. Now, shredding them with the Crambo eliminates unnecessary trucking, cutting costs and reducing the amount of waste going to landfills, reducing the company's carbon footprint. Komptech machines are known for their fuel efficiency and are equipped with the latest emission controls, further minimizing their environmental impact. Safety is another benefit since the Crambo is operated remotely and is extremely contrary-resistant, significantly reducing the need to clear jams. Derek Schatz states, "Our customers' feedback has been extremely positive on the safety and operational safety measures built into the Crambo. We have had this machine in all kinds of terrain, and with the self-propelled tracks it moves along in any conditions with ease."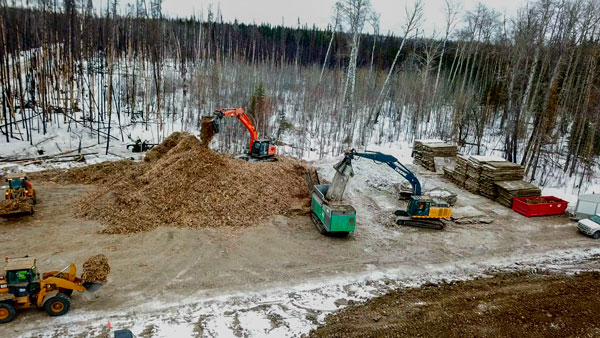 The shred is further processed into mulch or fuel
A Working Asset
With the Crambo, Chemco also offers customers access to shredding for other materials like railroad ties, building materials, telephone poles, etc. The machine has quickly proven to be a working asset for Chemco's operations. Derek Schatz says, "When we used the shredder with our cross-laminated mats we could not have been happier with all aspects of the machine. We are extremely happy with our purchase and with the support, we have received from Komptech."
For more information on Chemco, visit their website at https://www.chemco.com.