Waste Expo 2021 Proves Successful for Komptech Americas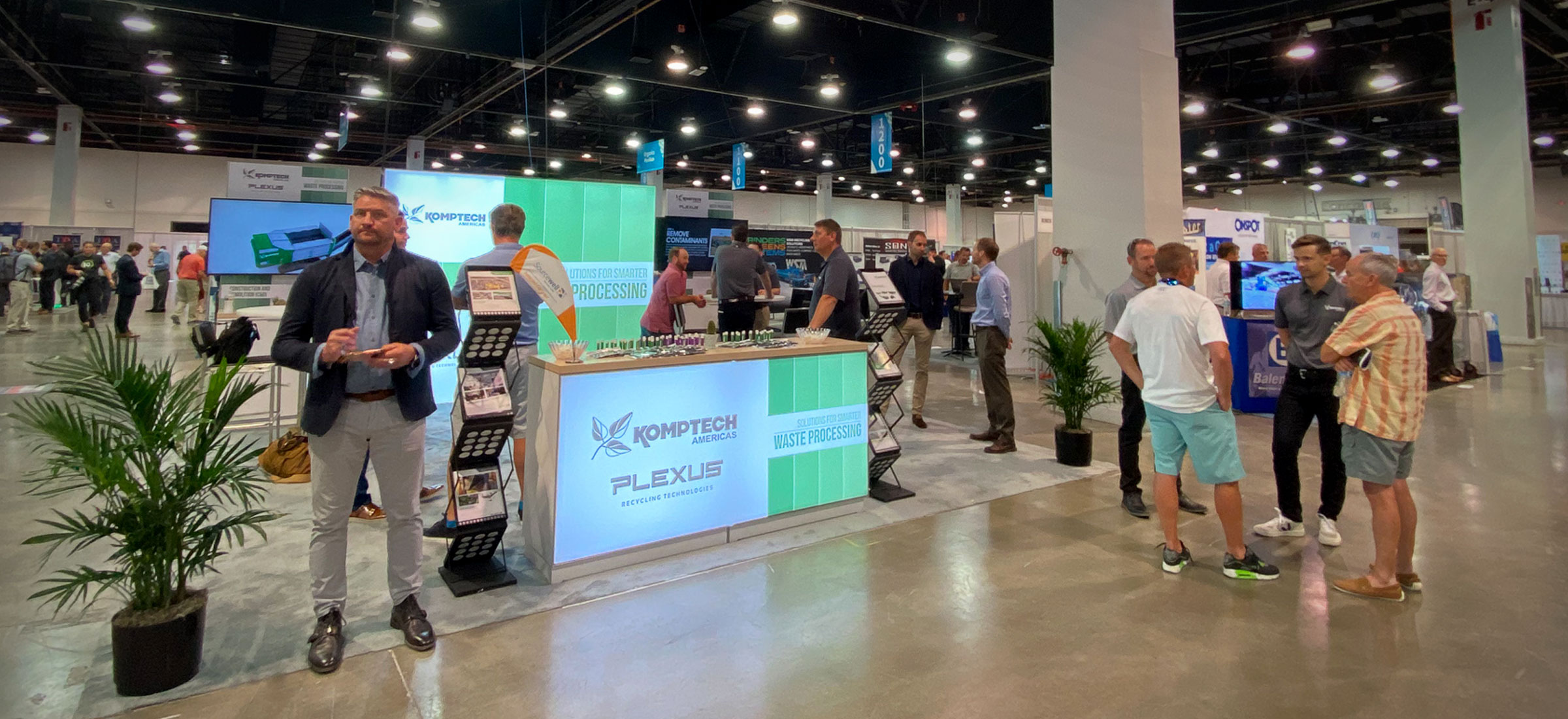 After more than a year of virtual events, webinars and video conferencing, waste industry professionals were able to meet together again in-person at WasteExpo 2021
WasteExpo 2021 At a Glance
2020 was the year that forced the many of us in the waste industry to work, communicate and network together remotely. Laptop screens morphed from everyday production tools to valuable portals to connect and converse. After spending months apart, WasteExpo 2021 emerged as one of the first major opportunities for solid waste and organics waste industry professionals to gather in-person to educate, discuss and share valuable insights.
This year, the WasteExpo conference was held the last week of June in Las Vegas – an exciting city that has become a regular backdrop to some of the world's largest conferences and conventions. The desert heat was no match for WasteExpo's many panel and conference sessions that offered attendees the chance to discover the latest on waste recycling, fleet management, worker safety, material recovery and more. Industry leaders and technical innovators presented on a wide variety of relevant topics as Waste Technology and Innovation were a few of the conference's main underlying themes.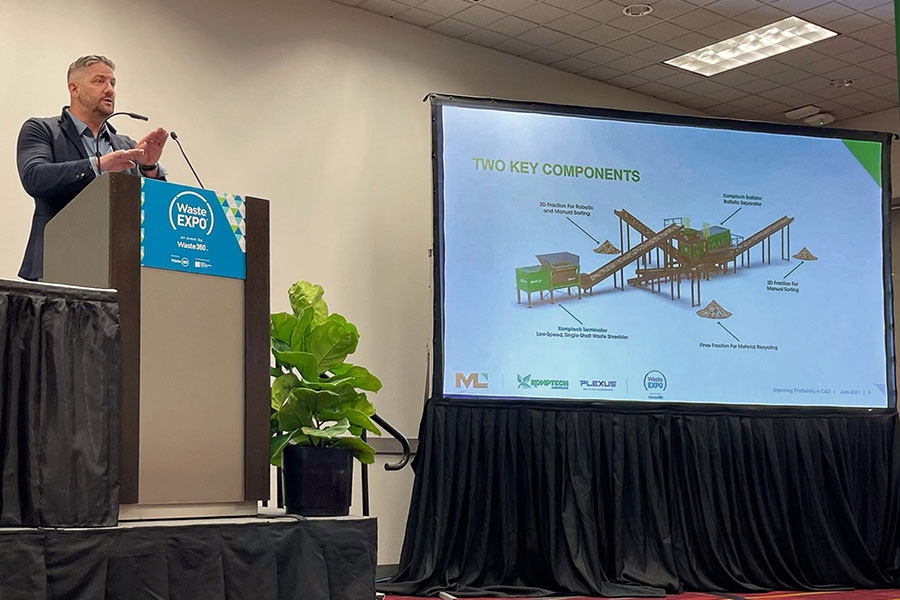 Will Hancock delivers a presentation at WasteExpo 2021 on improving profitability in C&D processing.
On Tuesday, June 29, Will Hancock, Stationary Sales Manager at Komptech Americas and Plexus Recycling Technologies, delivered a powerful presentation in the joint session titled "The State of C&D Recycling — Market Development and Technology Advancements". Along with co-presenters Michael Gross of Zanker Recycling and William Turley of the C&D Recycling Association (CDRA), Hancock discussed the current state of C&D recycling facilities and how advanced C&D processing technologies, like the Komptech Ballistor ballistic separator, can dramatically improve operational efficiencies, material recovery and profit margins for C&D recyclers.
At the Komptech Americas Booth
For two full days in the WasteExpo exhibit hall, visitors to the Komptech Americas/Plexus Recycling Technologies booth experienced messaging focused around technology solutions for smarter waste processing including C&D, MSW, single-stream and organics waste. Team members from Komptech Americas and Plexus engaged one-on-one with booth visitors from around the world, discussing their challenges, needs and potential opportunities to improve profitability in their waste processing operations.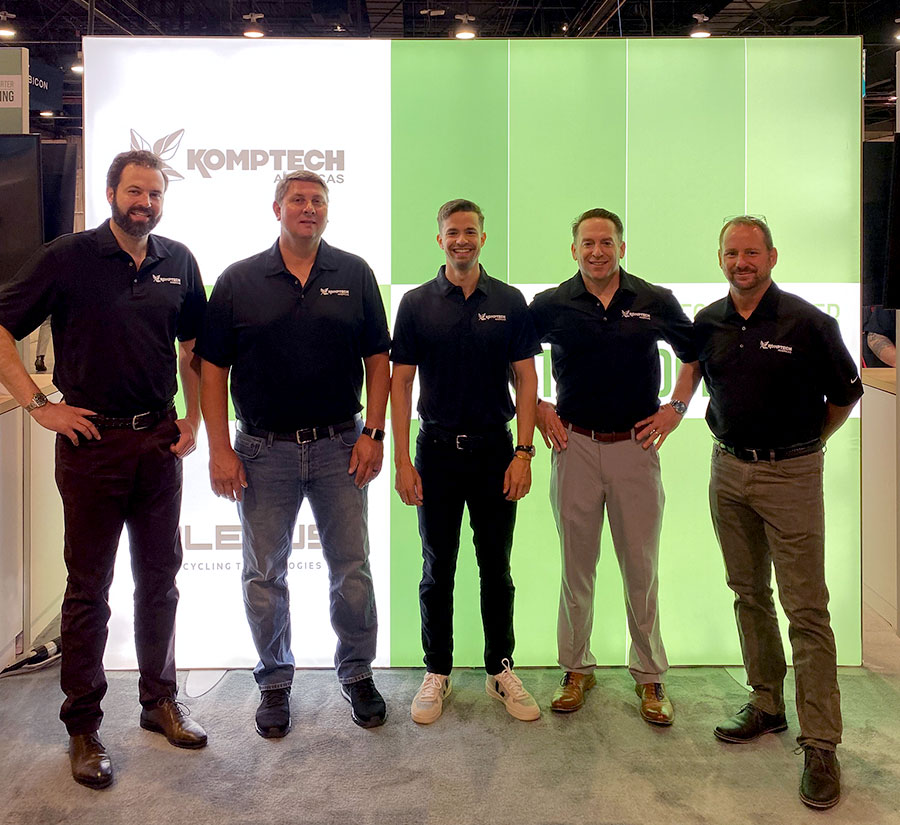 The Komptech Americas sales team in the booth and ready for opening day at the WasteExpo 2021 exhibition.
"We find WasteExpo valuable because it provides our team with the ability to personally meet and talk with a wide cross section of professionals from the waste industry who may be seeking help, searching for solutions or just gathering ideas to help them meet their own unique business challenges," said Brandon Lapsys, CEO of Komptech Americas and Plexus Recycling Technologies. "WasteExpo is a forum where our team can share their expertise and help customers on the spot."
Looking Forward to Next Year
Although the WasteExpo 2021 conference has concluded, the Komptech Americas and Plexus Recycling Technologies team has already begun planning for next year's event. In 2022, the WasteExpo conference will again be held at the Las Vegas Convention Center and is sure to be even bigger and better than ever before. Mark your calendar for May 9–12, 2022 and be sure to stop by our exhibit booth #1139 to say hello. Our team of waste industry experts will be ready to help you discover the right solutions that will meet your waste processing goals.
For more information on the WasteExpo conference, please visit https://www.wasteexpo.com