EVENT: C&D World 2021 Conference and Exhibition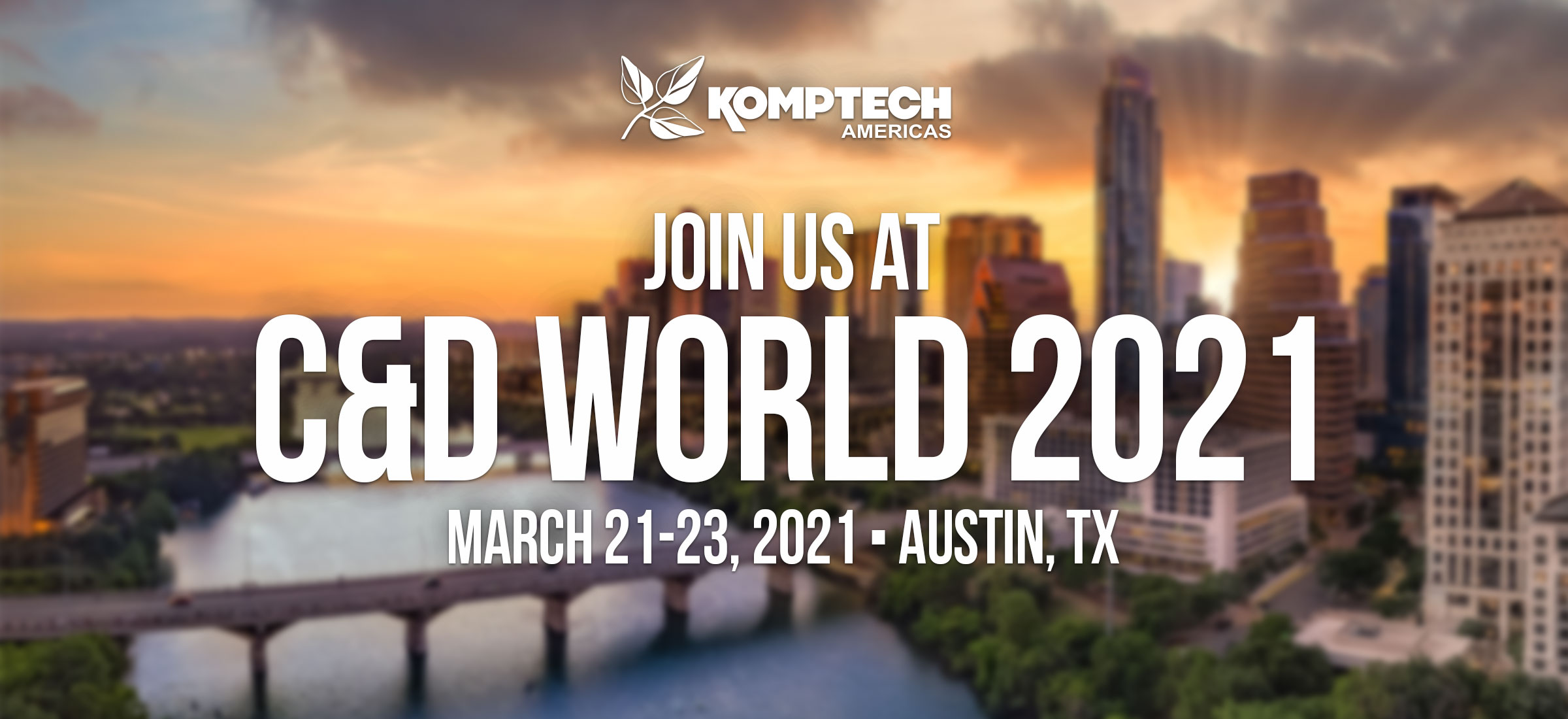 Presented by the Construction & Demolition Recycling Association (CDRA), the 2021 C&D World Annual Convention will take place on March 21-23, 2021, in Austin, Texas. The conference provides an opportunity for North American construction and demolition (C&D) recyclers to network and discuss the latest industry technology and trends.
On Sunday, March 21, various CDRA committees such as the CDRA Board of Directors will meet to discuss the emerging news and movements affecting the C&D industry. Attendees will also hear from keynote speakers including Dr. Timothy Townsend, Professor of Department of Environmental Engineering Sciences at University of Florida and Surinder Singh Rayet of the Northern Alberta Institute of Technology.
Throughout the conference there will be opportunities to network and meet one-on-one with booth exhibitors. Brandon Lapsys, President of Komptech Americas and Plexus Recycling Technologies, Garrett Lapsys, Area Sales Manager – Midwest, Keith Bartron, Area Sales Manager – Northeast, and Will Hancock, Stationary Sales Manager, will be managing the Komptech Americas exhibit booth #106 and Plexus Recycling Technologies exhibit booth #108. They will be available to discuss how recycling technologies from Komptech Americas and Plexus Recycling Technologies can assist in streamlining C&D processing for profitability.
"Although every project is unique, there is a great opportunity for those who choose to expand their ability to efficiently recover materials from their C&D waste stream," says Brandon Lapsys. "With new recycling technologies being introduced into the C&D market, including technologies of our own, C&D World 2021 is the premier event for industry leaders to discover new, smarter ways to process C&D waste."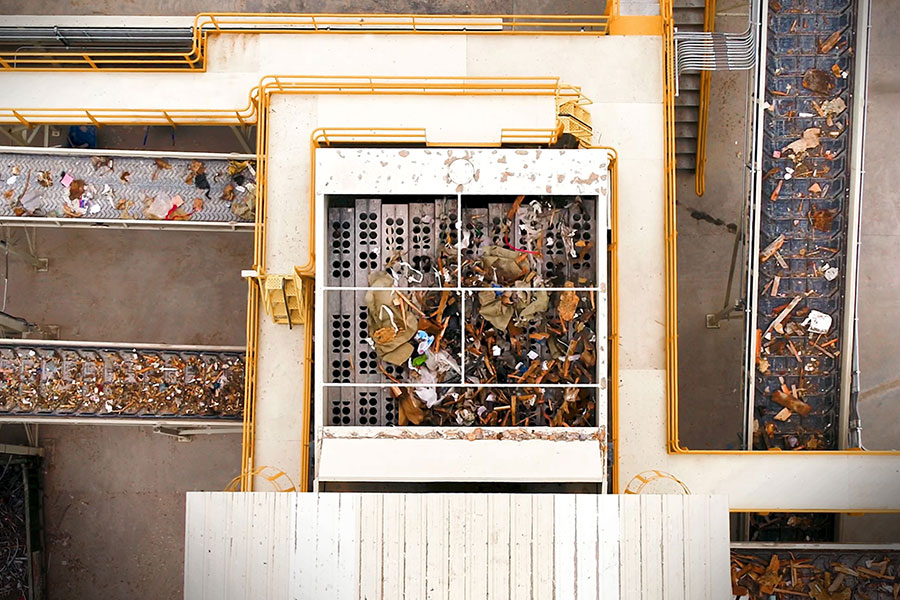 Overhead view of the Komptech Ballistor separating shredded C&D waste into multiple fractions prior to downstream sorting.
On Monday, March 22, attendees will have the opportunity to have some fun while supporting the CDRA organization at the annual CDRA Fundraiser in the AT&T Center Outdoor Courtyard. The fundraiser event is sponsored by Komptech Americas and Plexus Recycling Technologies.
"Although the conference may look different than years past, we are looking forward to another great conference with CDRA," says Lapsys. "Komptech Americas and Plexus Recycling Technologies have been long-time members and supporters of CDRA's work to advocate for the C&D industry and recyclers."
To conclude the conference, participants will receive an onsite tour of Recon Recycling, a state-of-the-art mixed C&D recycling facility and the first operation to install and use robotic arms on its picking line. Plexus Recycling Technologies is the North American distributor of the Finland-based ZenRobotics Heavy Picker. This robot is the only one of its kind currently working in C&D recycling, with the ability to pick up to 60 pounds. Recon also houses the Komptech Ballistor, a ballistic separator that provides three-way separation of two-dimensional, three-dimensional and fines, all in one process, with output sizes that can be adjusted as needed.
Founded in 1994, the Construction & Demolition Recycling Association (CDRA) represents a diverse group of member companies and agencies from the many C&D materials recycling disciplines and industry specialties active in the United States and other countries. Komptech Americas is proud to be a member and supporter of CDRA's mission to promote the recycling of construction and demolition materials.
To learn more about the CDRA and the 2021 C&D World Conference visit: https://cdrecycling.org
---
DATE/TIME:
March 21–23, 2021
EXHIBIT INFO:
Combined Booths #106 and #108
VENUE:
AT&T Hotel and Conference Center
1900 University Ave, Austin, TX 78705