EVENT: C&D World 2021
Recon Facility Tour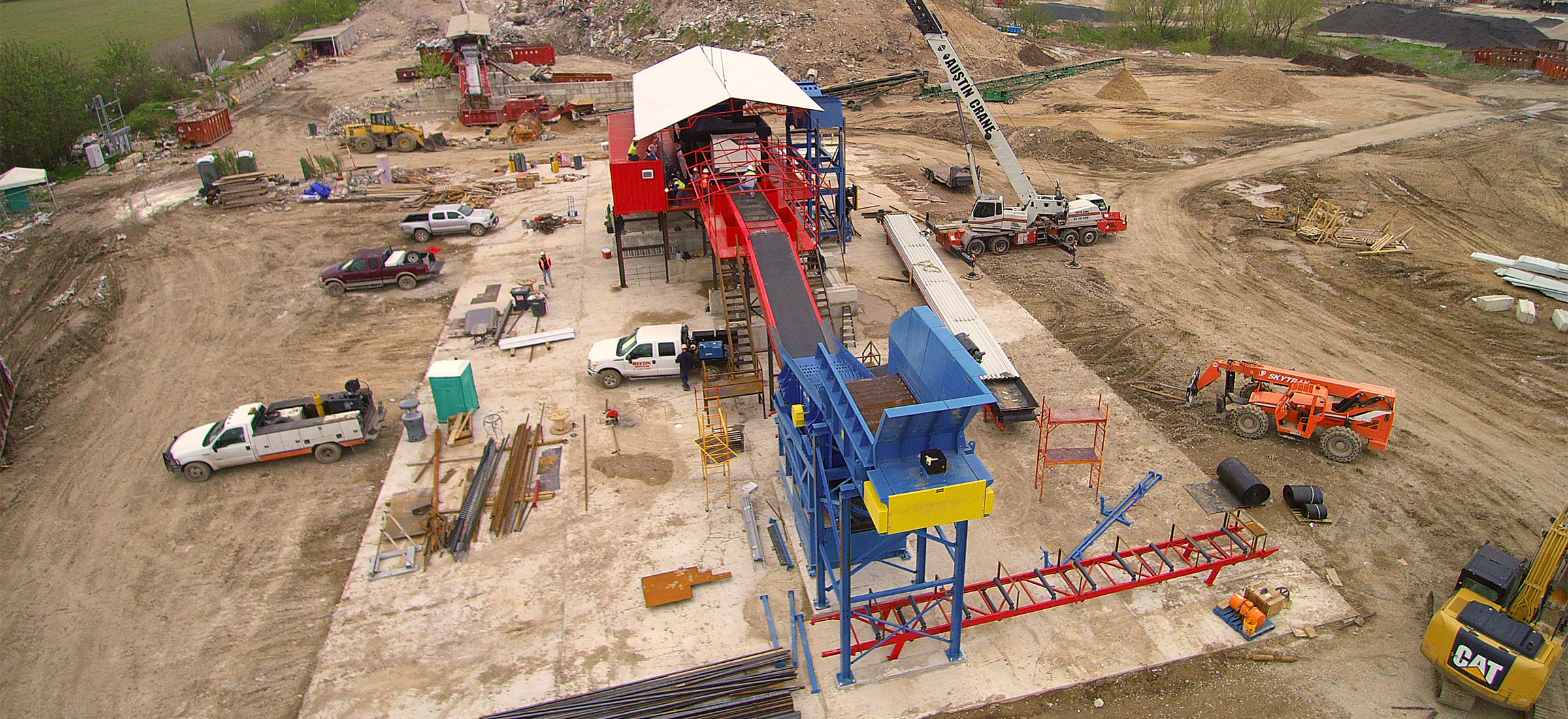 Serving the Austin, Texas community since 2005, Recon Services Inc. is a locally owned, family operated construction roll-off box and construction and demolition (C&D) debris recycling company. After being honored as the CDRA Recycler of the Year in 2018, Recon Services has been selected as this year's facility tour for the 2021 C&D World Annual Convention on Tuesday, March 23, 2021 at 9:30am.
On March 21-23, 2021, the Construction & Demolition Recycling Association (CDRA), will host the 2021 C&D World Annual Convention in Austin, TX. The conference provides an opportunity for North American construction and demolition (C&D) recyclers to network and discuss the latest industry technology and trends. On Tuesday, March 23, pre-registered attendees will have the opportunity to tour Recon's state-of-the-art mixed C&D recycling facility.
"We are looking forward to hosting the tour this year," says Walter Biel, owner of Recon Services. "It is always enjoyable to have a visit with other businesses within this industry. It's great to share stories and ideas as a group that would make our business a better place. We all share the same goals and passion to be a better recycler."
"The Komptech Ballistor was the major game changer for us"
— Walter Biel, Owner, Recon Services
Originally founded as a hauling facility, Recon was introduced to the C&D waste recycling industry after supporting the Hurricane Katrina cleanup efforts in 2005. Recon has since grown to 85 employees and has surpassed many expectations of most C&D recyclers. Recently, the city of Austin passed regulations requiring 50% of construction and demolition debris to be recycled and brought to a qualified recycler. In addition to being the only qualified recycler in Austin, Recon has also achieved an RCI Annual Certified Recycling Rate of 85.35%. Recon Services has been involved in many of Austin's Leadership in Energy & Environmental Design (LEED) Certified projects, including those that have reached Platinum Level, and can provide facilities with LEED construction waste recycling reports.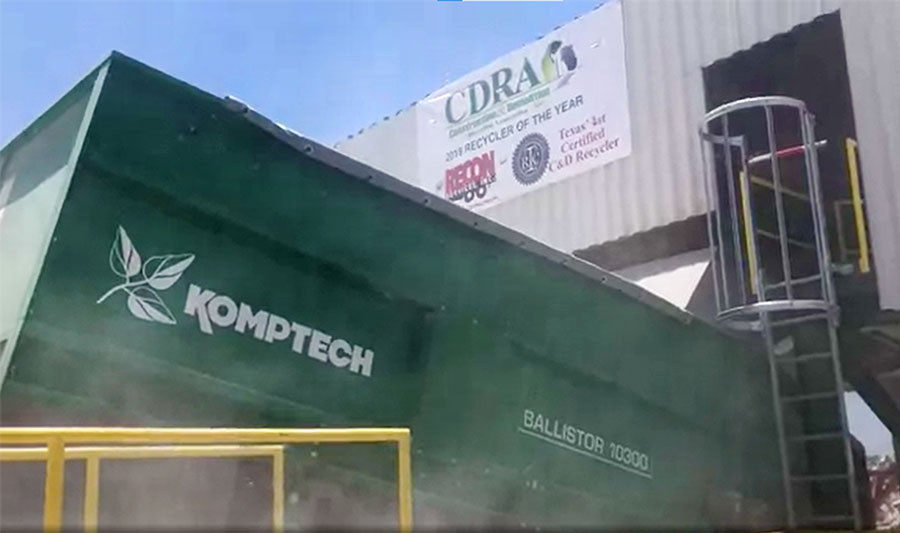 The Komptech Ballistor ballistic separator processing C&D waste at Recon Services in Austin, TX. Photo by Will Hancock.
The C&D processing line at Recon begins by pre-shredding incoming materials with the Komptech Terminator low-speed, high-torque, single-shaft waste shredder, to downsize materials to a 3-foot minus fraction. Next, 2-D, 3-D and fines fractions are separated automatically in one process with the Komptech Ballistor ballistic separator. Recon Services is the first C&D recycling center in the Western Hemisphere to install and utilize an automated, A.I. powered robotic sorting system. Designed specifically for processing C&D materials, the ZenRobotics Heavy Picker can produce up to 4,000 picks per hour. Due to recent events, the robots have been removed from the facility temporarily. In addition to C&D, Recon is also able to produce 500,000 tons of recycled aggregates per year and includes a metal recycling yard, roll-off storage area and fabrication and mechanical repair shops.
"The Komptech Ballistor was the major game changer for us. It does such a great job cleaning up the 2-dimensional and 3-dimensional," says Biel. "We now have a clean product going to both of our lines. It definitely changed the amount of material we can recycle and the purity. Along with the Terminator, our line now has a consistent size of material that comes across our belts. Consistent sizing is the key for a productive day in and day out of production."
With the help of Komptech Americas and Plexus Recycling Technologies, Recon Services has become an innovative and proven example for C&D recycling facilities across the United States. Join us on Tuesday, March 23 for Recon's site tour to meet Walter Biel and his team!
About Recon Services:
Recon Services is a locally owned and family operated construction roll-off box and construction debris company. They have been providing services in the Austin area since 2005.
Learn more at: https://www.reconservicesinc.com