EVENT: USCC's Virtual COMPOST2021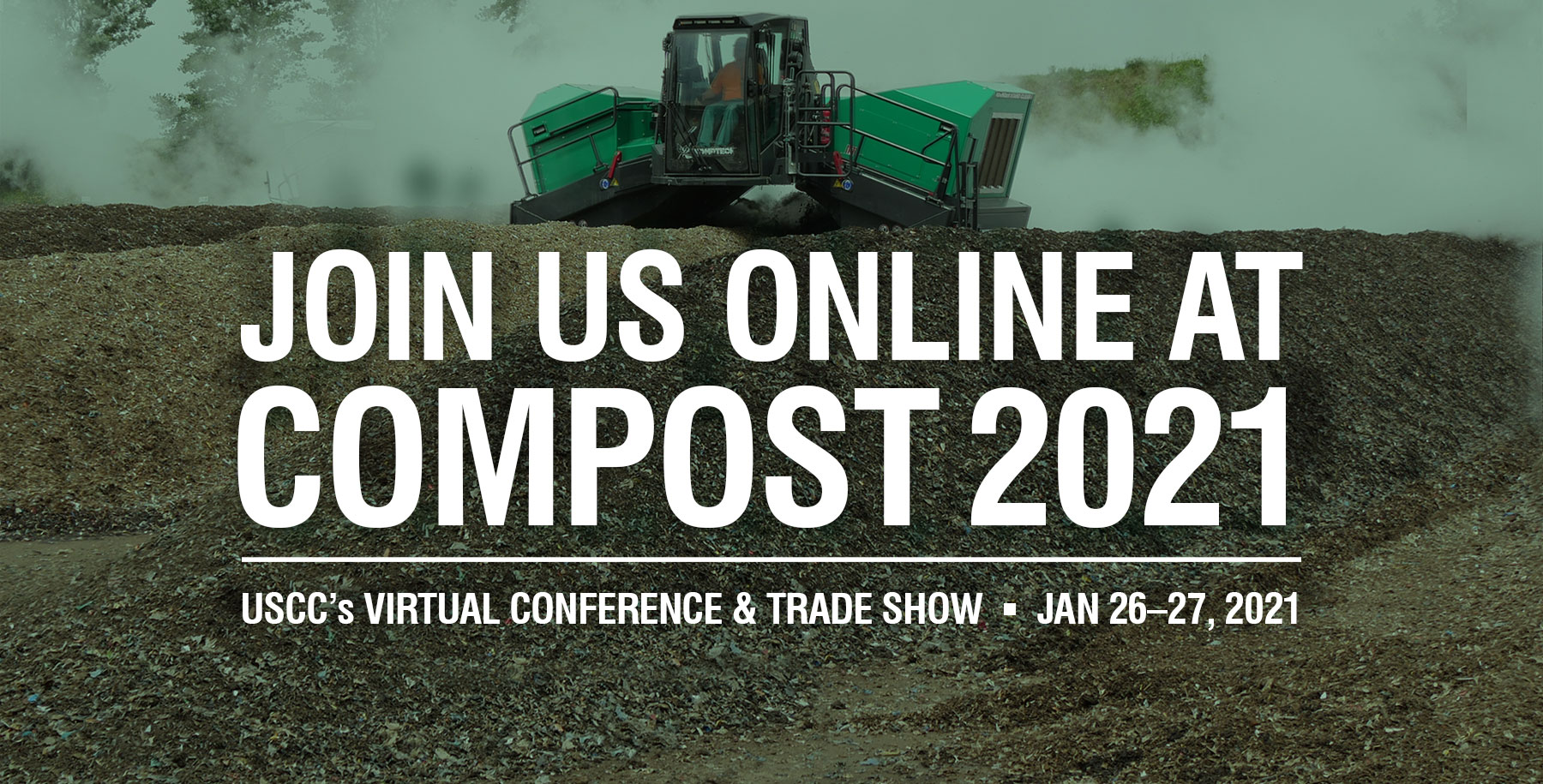 Each year, the US Compost Council (USCC) holds the composting industry's premier annual event. This year, on January 26-27, 2021, the USCC will host online its 29th Annual Conference and Tradeshow, Virtual COMPOST2021. Although the conference this year may look different than years past, Virtual COMPOST2021 will feature more than 24 speakers and three focused tracks including "Operations," "Collection, Policy and Research" and Product Quality, Use and Markets."
"The US Composting Council is adapting to the needs of our time. Bringing a compost family together for our annual conference is essential to the mission of the USCC," says Frank Franciosi, Executive Director of US Composting Council (quote from Compost Communicator at www.naylornetwork.com, 2020). "We must keep the organics recycling momentum rolling into 2021. We need your support and attendance now more than ever. The entire Council is excited to be able to host Virtual COMPOST2021: Sharing Local Solutions Globally."
The event's keynote speaker is Paul Hawken, founder of Project Drawdown and New York Times best-selling author. Mr. Hawken will be covering "How Composting Can Aid in Drawdown." Other featured speakers include Solange Ackrill of Club Coffee and Todd Dunderdale, Senior Sales Manager – West of Komptech Americas and Certified Compost Professional (CCP). Todd will deliver a presentation on Wednesday, January 27 about "Contamination Removal From Compost."
Attendees of Virtual COMPOST2021 will also have the opportunity to visit the trade show exhibits online throughout the event. The Komptech Americas sales team will manage the company's three virtual exhibit booths, each booth with a different theme: Shredding, Screening and Windrow Turning. The Komptech Americas team will also be available throughout the event to provide insight into how Komptech technologies can deliver a more efficient production process for commercial composters.
Since 1990, the USCC has been the only national organization dedicated to the development, expansion and promotion of the composting industry. Komptech Americas is a proud member and long-time support of the Council's efforts and mission to enhance the quality and education of compost production.
For more information about the USCC's Virtual COMPOST2021 conference and tradeshow visit: https://compostconference.com.