EVENT: Waste Expo 2022 Conference and Tradeshow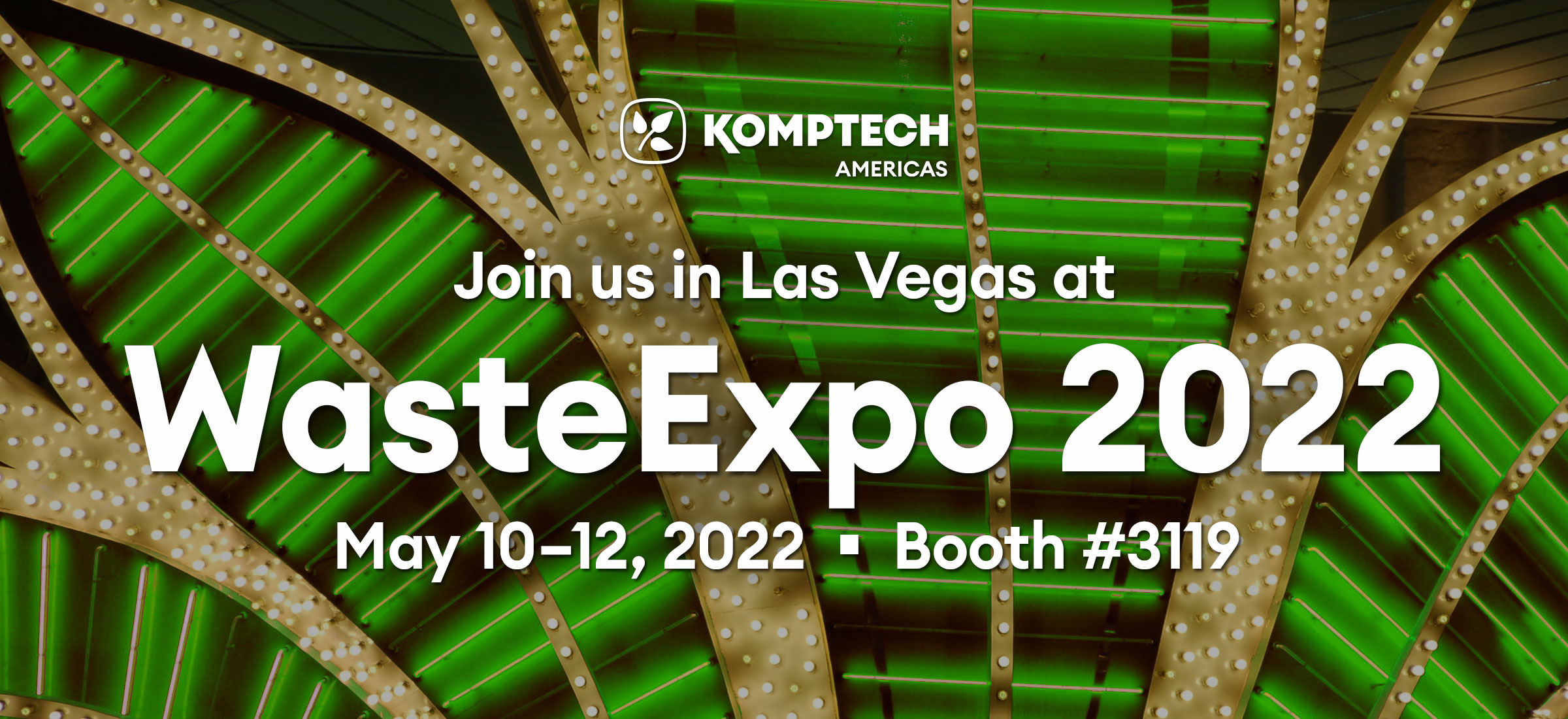 Komptech Americas is exhibiting at WasteExpo 2022 from May 9-12 in Las Vegas. Join us in booth #3119 at the waste and recycling industry's largest annual tradeshow and discover how Komptech technologies will help you optimize your solid or organics waste processing operations.

During the second week of May 2022, Waste360 and the National Waste & Recycling Association (NWRA) will be the hosts of the WasteExpo 2022 Conference and Exhibition. Each year, more than 14,000 waste and recycling professionals from around the world gather together at North America's largest solid waste recycling and organics event. This year's event takes place in Las Vegas and is a valuable opportunity for professional learning and development, business networking and gaining insight into the latest waste and recycling technologies in the market.
At the conference, attendees will have the opportunity to attend dozens of industry-related education sessions covering technology and innovation, operations, fleet and safety, and organics management. The event includes open Spotlight Sessions with special guest speakers and popular, industry-relevant topics. In addition, the Waste360 Food Recovery Forum sessions run throughout the conference with the goal to help educate attendees on ways to solve the social and environmental issues of wasted food as well as find means to profit from the recovery and reuse of food waste.
The WasteExpo Exhibit Hall will be open for attendees from 10 AM to 5 PM on Tuesday, May 10 and Wednesday, May 11, and from 10 AM to 1 PM on Thursday, May 12. Exhibit attendees can research and speak with over 600 of the waste and recycling industry's leading suppliers. Team members from Komptech Americas will be available in Exhibit Booth #3119 to answer questions and provide insight into Komptech equipment technologies and solutions that can streamline the processing of C&D, MSW, single-stream and organics waste to improve profitability for customers.

The Komptech Americas booth at last year's WasteExpo 2021 exhibition.
"We are looking forward to heading to Las Vegas and exhibiting at WasteExpo 2022," says Brandon Lapsys, President of Komptech Americas. "This conference provides such a great opportunity for our customers and our team members to meet together easily and discuss their waste and recycling needs in person."
One change happening at WasteExpo 2022 is the venue will move to the new West Hall of the Las Vegas Convention Center for the first time. However, attendees can still expect to have an unforgettable WasteExpo experience as always. We invite you to join us at WasteExpo 2022 and hope to see you in Las Vegas!
For more information: https://www.wasteexpo.com.
---
DATE/TIME:
Conference:
May 9–12, 2022
Tradeshow Exhibition:
May 10-11, 2022 / 10:00 AM – 5:00 PM
May 12, 2022 / 10:00 AM – 1:00 PM
EXHIBIT INFO:
Booth #3119
VENUE:
LAS VEGAS CONVENTION CENTER – West Hall
300 Convention Center Dr, Las Vegas, NV 89109