EVENT: Waste Expo 2023 Conference and Tradeshow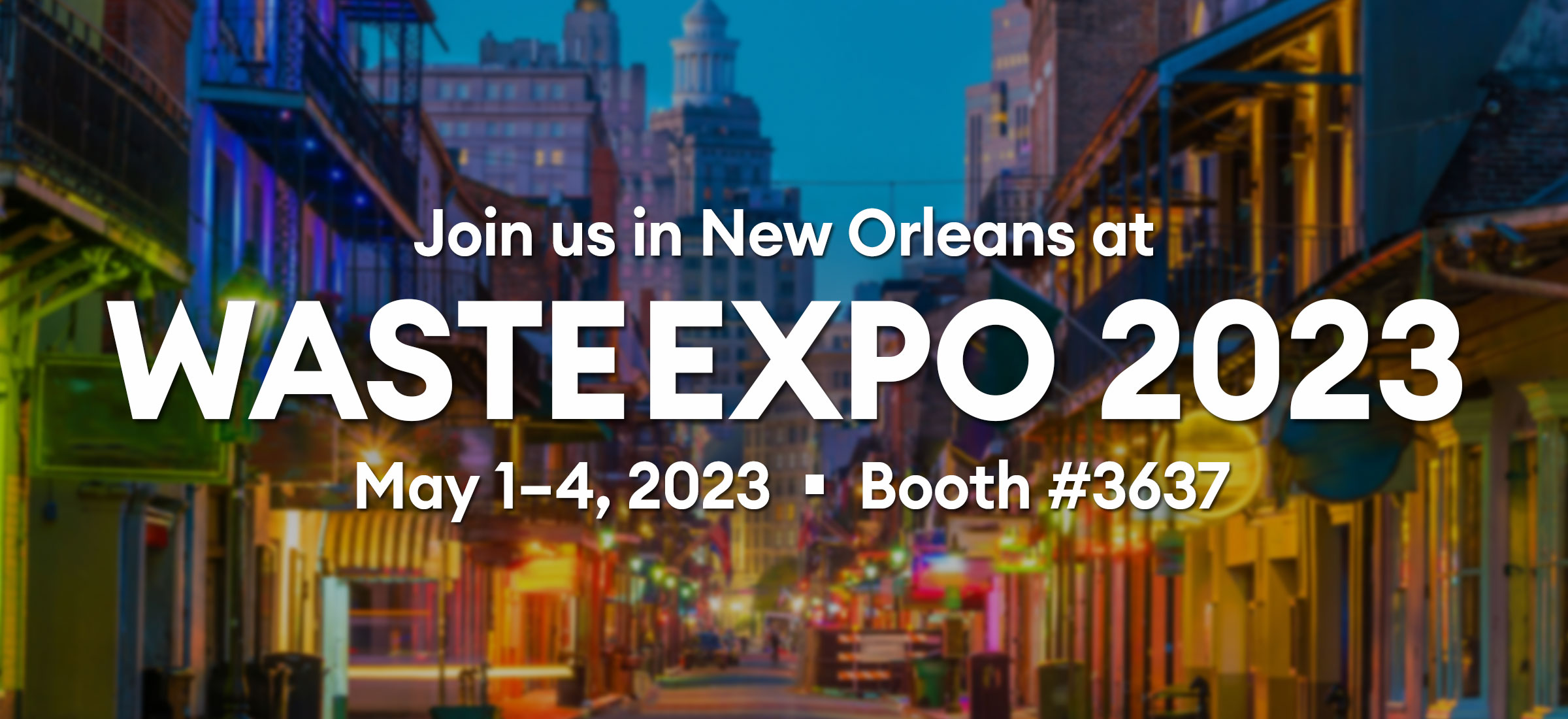 Komptech Americas will attend and exhibit at WasteExpo 2023 from May 1–4, 2023, in New Orleans, Louisiana. Join us in booth #3637 throughout the week to learn about Komptech's material processing solutions for C&D, MSW, single-stream, and organics waste.
WasteExpo, hosted by Waste360 and the National Waste & Recycling Association (NWRA), is the largest trade show in North America for the waste management and recycling industry. The conference and exhibition provide numerous opportunities for waste professionals to gain valuable education, networking and insights into the latest innovations and technologies available to the market. This year's event will feature over 600 exhibitors and is expected to draw more than 14,000 attendees.
What to Expect at WasteExpo 2023
From Monday, May 1 to Wednesday, May 3, the WasteExpo conference will feature informative sessions spanning eight separate tracks, including Recycling and Landfills, Waste Tech and Innovation, Ops, Fleet and Safety, Food Recovery, and Organics Management. The Komptech Americas team is looking forward to attending the following educational sessions:
Federal Food Loss and Waste Reduction Initiatives
Pitch Slam Competition: Discovering Innovation That Shapes the Future
Seizing an Opportunity: The Rise of MRF Investments
How Do We Scale the Reuse Economy?
Waste 360's TRASHION: A Recycle, Reuse, ReFashion Show

Todd Dunderdale, CCP, will deliver a presentation about creating compost agriculture food production at WasteExpo 2023.
In addition to the tracks mentioned, Komptech America's Senior Area Sales Manager, Todd Dunderdale, CCP, will deliver a presentation titled "How to Create a Sellable Compost Product for Agriculture Food Production." Over the past 20 years, Todd has helped implement over 300 equipment solutions into the solid and organics waste market, from industrial waste shredders and screening machines to commercial compost windrow turners and material separation equipment. Todd has witnessed the industry's evolution first-hand.
Most recently, he has watched compost rapidly gain global acceptance as a proven soil amendment to generate healthier soil, reduce landfill disposal costs and lower pollutants. However, there's still a long way to go for compost to be considered "standard practice" for large-scale agricultural producers. But why? Join Todd's presentation to gain insight into this hot topic.
Composting: Technologies, System Solutions, and Products for Agriculture
Date/Time: Monday, May 1, 2023 | 2:15 pm–3:45 pm
Room: 273
Session Number: MORG4
Komptech Americas at WasteExpo 2023
The WasteExpo Exhibit Hall will be open from Tuesday, May 2, through Thursday, May 4. We invite you to visit our team in the Komptech Americas booth, #3637. We will be available throughout the conference to discuss how you can solve your waste processing challenges with the right waste processing technologies in place. At our booth, along with interactive digital kiosks, informative fact sheets and videos, you can grab some of the best swag at the conference, including our 2023 edition Komptech collector's socks! Be sure to play the Komptech Match Game and enter our raffle to win a custom gift basket and other awesome Komptech prizes.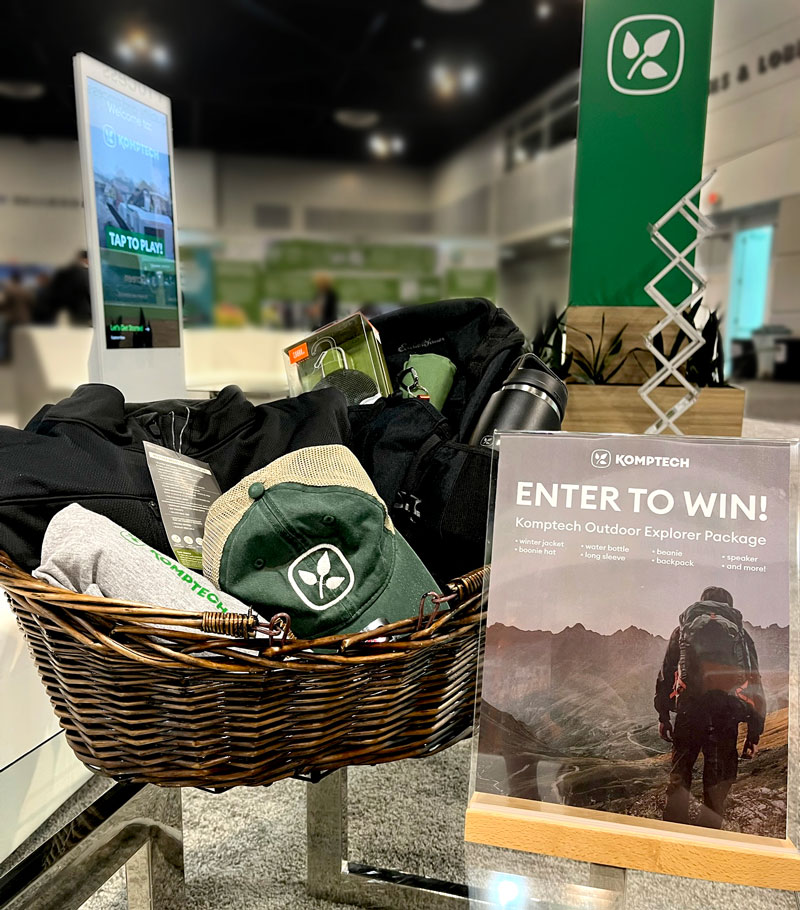 Komptech Americas will award a special raffle prize to a winning WasteExpo 2023 attendee.
This year at WasteExpo, Komptech Americas will also compete in the "Carts on Display" art competition contest, sponsored by the NWRA's Women's Council. Our team decorated a 64-gallon trash cart into something special that promotes the growth of the waste and recycling industry. We had a great time getting crafty together. Check out our cart submission in the NWRA Booth #437 and join us for the "Carts on Display" awards ceremony on Wednesday, May 3, at 2:00 pm.
WasteExpo 2023 promises to be an exciting event for the waste and recycling industry. With a wide range of exhibitors and educational sessions, attendees will surely come away with new ideas and inspiration for improving their waste processing operations. Komptech Americas is proud to participate in this event and looks forward to sharing our latest innovations and insight with attendees.
To learn more about the WasteExpo 2023 conference, visit: wasteexpo.com.
---
DATES/TIMES:
Conference:
May 1–4, 2023
Tradeshow Exhibition:
May 2-3, 2023 / 10:00 AM – 5:00 PM
May 4, 2023 / 10:00 AM – 1:00 PM
EXHIBIT INFO:
Booth #3637
VENUE:
EARNEST N. MORIAL CONVENTION CENTER
900 Convention Center Blvd, New Orleans, LA 70130