Quarter 1, 2023
Volume 1, Issue 1
Komptech Americas Named One of Denver's Best Places To Work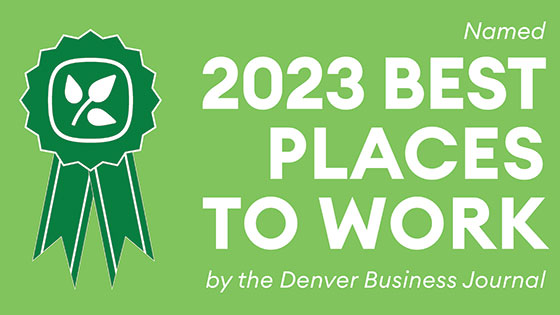 The Denver Business Journal has recognized Komptech Americas as one of the 2023 Best Places to Work in Denver among mid-sized businesses. This prestigious accomplishment is a testament to our organization's ongoing commitment to cultivating and maintaining an atmosphere that supports and empowers our team, providing both a rewarding and satisfying work experience.
The DBJ's Best Places to Work award is an honor given to companies in the Denver area that go above and beyond to create a work culture of teamwork and collaboration. Komptech Americas was selected for this award based on feedback from employee surveys that assessed our company's workplace culture, benefits, and overall employee experience.
Our core values, "Invested-Guides-Evolving-Together," were paramount in achieving this commendation. Other key contributing factors were added benefits and activities, including Food Truck Fridays, our off-site All Hands Retreat, inflation-fighting grocery gift cards, company paid-continuing education, health and wellness programs, and a focus on a healthy work-life balance. Also, our recognition of employee success, like the President's Club, GEM award, Core Value awards, Years of Service awards, and internal shout-outs, were well received during the award evaluation. The Denver Business Journal believes our core values are not just symbolic words and phrases on our lobby wall but that our team demonstrates them daily through our approach to work, communication, and collective mindset.
Being named one of the Denver Business Journal's Best Places to Work is a significant achievement for the Komptech Americas team. This recognition will continue to help our organization become more visible in the community and attract the best talent to support our future growth. Thank you to everyone on our team for creating such an outstanding workplace. Congratulations, and great work!
MLE Sells First Scott Equipment Turbo Separator Depackaging System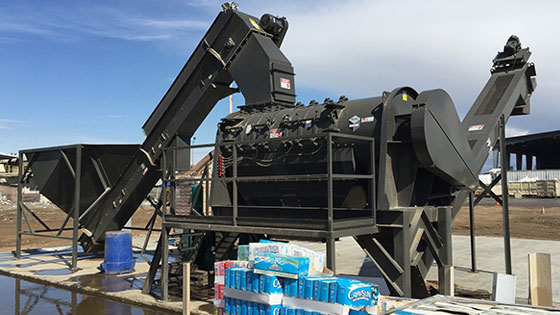 Since 2013, The Organic Recycler in Hutchins, Texas, has grown to success by processing organics and wood waste for compost, mulch and soil production. In recent years, the company has sought to expand its services to include food waste recycling, specifically, expired food items not suitable for purchase or consumption. By offering this service, customers would gain a new channel to safely dispose of food waste and divert harmful, methane-producing organics from area landfills. At the same time, the company could produce valuable compost amendments to improve quality and increase value. With the strategy established, next was finding the technology that made the most sense.
In January 2022, The Organic Recycler owners Tim Sansone and Jud Smith attended the US Composting Council's annual conference in search of a solution to meet their food waste recycling needs. While walking the tradeshow floor, the two met with the Scott Equipment team in their exhibit booth. After listening to their challenges and establishing requirements, the Scott Equipment Company referred The Organic Recycler owners to meet with Garrett Lapsys of ML Environmental, the newly established distributor of Turbo Separator products in their region. Sansone and Smith were excited at the opportunity to work with Garrett once again.
Garrett had worked with The Organic Recycler team previously on their purchase of a new Multistar XL3. The Komptech star screen was to replace a previously purchased Neuenhauser star screen that did not perform to expectations. The newly acquired Multistar XL3 eventually arrived on site in Texas in June 2022 and has performed effectively as the team had hoped.
Over the few months following the COMPOST 2022 conference, Garrett continued to consult with Tim and Jud, providing them with detailed product information and insight into the features and benefits of the Turbo Separator system. In the Fall of 2022, Garrett traveled with the two owners to Iowa to witness the Turbo Separator in action. The duo was impressed with the machine's large infeed hopper and its ability to efficiently separate recyclable food material, wet or dry, from its unwanted packaging, in one swift process.
Shortly after the trip, Tim and Jud contacted Garrett. They told him that because of the successful demonstration, they had decided to purchase a Turbo Separator T42 depackaging system for their facility. The T42 is designed to process 75-150 tons of food waste materials daily. It offers a simple engineered design with robust construction and proven operational longevity. Sansone and Smith knew the T42 was the right solution for their business and placed the order with MLE in late December 2022, with delivery and operation expected to begin in mid-2023.
Looking ahead, The Organic Recycler is poised for significant expansion and growth. The Turbo Separator enables the company to secure contracts with food manufacturers, grocery stores, and waste haulers, allowing millions of pounds of food waste to be recycled and reducing the environmental impacts of landfilling organics.
Lee Short Delivers Guided Video Tour of the Multistar Star Screen
At the COMPOST 2023 Demo Day event, Machinery Partner took an in-depth look at the Komptech Multistar Star Screen with the help of an on-camera, guided product tour by Lee Short! Check out the video to discover some of this efficient screening machine's key features for commercial organics and wood waste processors.