Welcome to Komptech Americas
What started in 1992 with the passion of a few pioneers has evolved into North America's leading waste technology supplier
Komptech Americas is the North American master distributor of Komptech equipment and systems, providing and supporting the most forward-thinking solutions to the solid waste and organics waste recycling industry. With a specialized product portfolio, a guiding approach to solutions development for customers, and full-service after-sales support and parts, Komptech Americas empowers clients with new capabilities that help them to evolve their business AND protect our planet.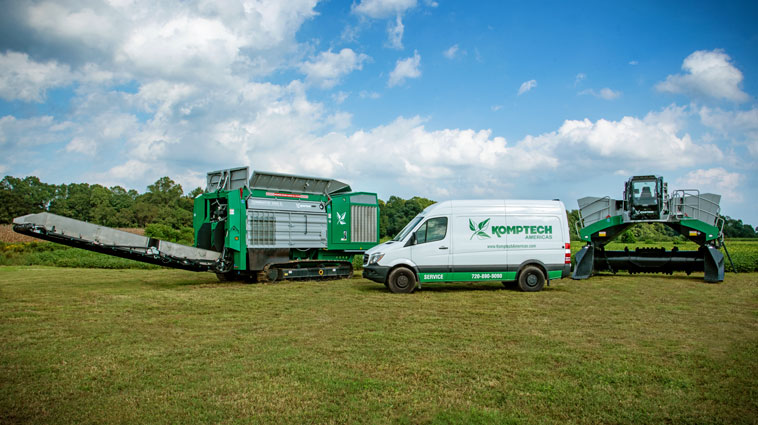 Komptech Americas is the master distributor of Komptech equipment throughout North America.
Our product portfolio consists of over 30 machine types innovatively engineered and built upon advanced technologies for modern commercial waste recycling processes, including shredding, separating, screening and compost windrow turning. With the industry's most efficient waste processing solutions, Komptech Americas enables commercial waste recyclers to improve efficiencies, lower costs, and increase profitability.
Born From Innovation
The roots of our brand began in Austria, where Komptech became one of the first companies in Europe to introduce equipment built to process organic waste. It was here that the precise European engineering behind Komptech equipment took shape. And although the first Komptech machine was sold in the United States in 1999, the Komptech brand wasn't established in the West until 2007, when Komptech USA was founded.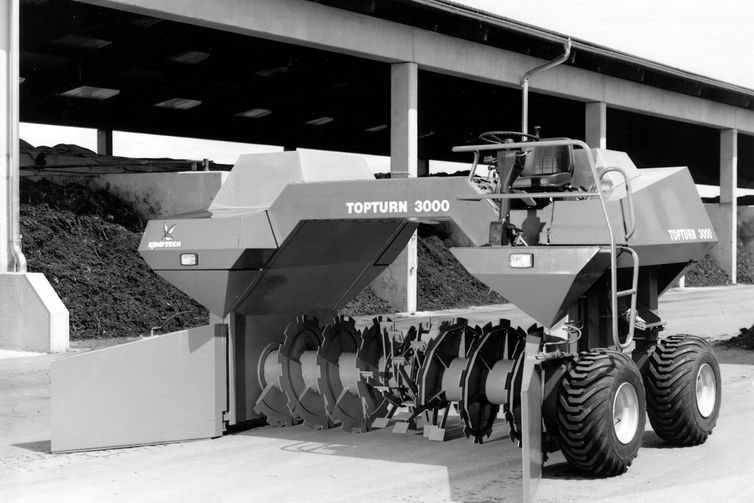 A photograph of the first Komptech Topturn windrow turner in 1992.
At that time, with a dedicated subsidiary in North America, the Komptech brand began to gain a reputation throughout the waste recycling industry in the U.S. and Canada as top-quality waste processing technology that is intuitive in design and engineered for reliability and efficiency. But our innovation is not held exclusively by the machinery we sell. It's also in our very approach to how we work to ensure our customers' success.
In 2014, the M-L Holdings Company purchased Komptech USA, and the company officially became Komptech Americas, LLC. Today, with a combination of dealership partners and direct-to-customer sales and support throughout the United States and Canada, Komptech Americas is the master distributor and supplier of Komptech equipment throughout the Western Hemisphere.
Today, Komptech Americas is a team of industry professionals working with a customer-centric, consultative mindset to deliver personalized, expert guidance and responsive support. We are proud of the lifelong working partnerships we've formed by remaining committed to working from our established core values.
OUR CORE VALUES:
1. Invested
We work hard together, are highly accountable and are obsessed with helping our customers win.
We're passionate, driven and dedicated to creating positive differences for our customers and team.
2. Guides
We are realistic, responsive experts who work together to lead customers and colleagues toward success.
We always go above and beyond to ensure our customers and team members achieve more
3. Evolving
We are eager to learn and share our knowledge with customers and team members to help them grow.
We are focused on personal and professional growth that makes our work and lives more rewarding.
4. Together
We are teammates who treat each other with kindness, thoughtfulness and respect.
We are loyal, humble and authentic and enjoy making our workplace productive and fun.
Delivering customer value is our focus as we strive to be the waste industry's technological leader through continual innovation. Komptech Americas is dedicated to helping customers solve waste processing challenges with comprehensive, world-class technology solutions to positively impact our planet.