Customer Story: Midwest Organics Recycling
Illinois Composter Finds New Ways to Optimize Processes
Organics waste recycling is challenging in any region. For Andy Klink of Midwest Organics Recycling in McHenry, IL, putting the right equipment technologies into his process helped him accelerate success.
WATCH THE VIDEO STORY

Common Organics Recycling Issues
Too Many Fines From High-Speed Grinding: Horizontal high-speed grinders tend to "pulverize" organics waste down to very fine particles, around 1/2″ minus or smaller. When these fines are placed inside windrows, they can easily become "suffocated" due to lack of airflow, which degrades the natural decomposition process.
Inability to Screen Wet Material: Most commercial compost facilities work at the mercy of nature's elements. Unfortunately, because of this, organics waste will sometimes retain moisture. When this happens, it is vital that the material is screened effectively, in order to ensure that year-round production and profitability are maintained.
Contaminants In Finished Compost: Following the compost screening process, it is critical to remove the remaining lightweight plastics, film, foils and other contaminants from the overs fractions. This prevents the reintroduction of contaminated overs back into the composting process and from ending up in the finished compost product.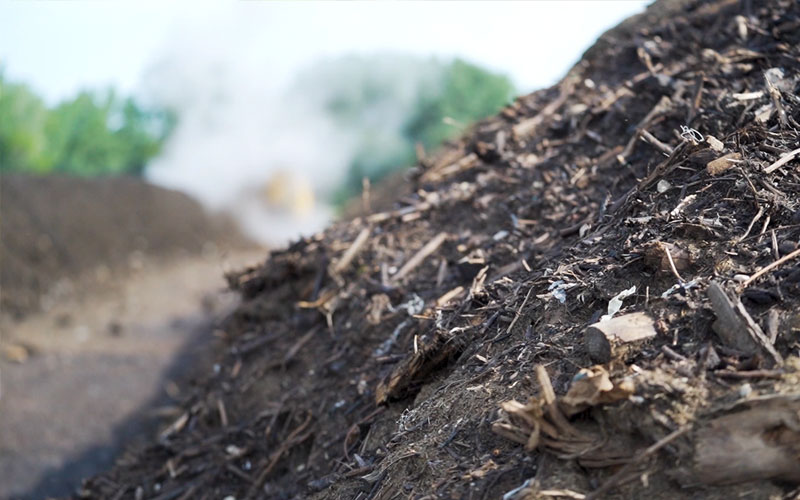 How Are These Challenges Solved?

With the right process.
For over 25 years, Komptech has worked with scientists, agriculture experts and customers to develop a 4-step commercial composting process that maximizes finished compost quality and production efficiency: Shred–Turn–Screen–Separate.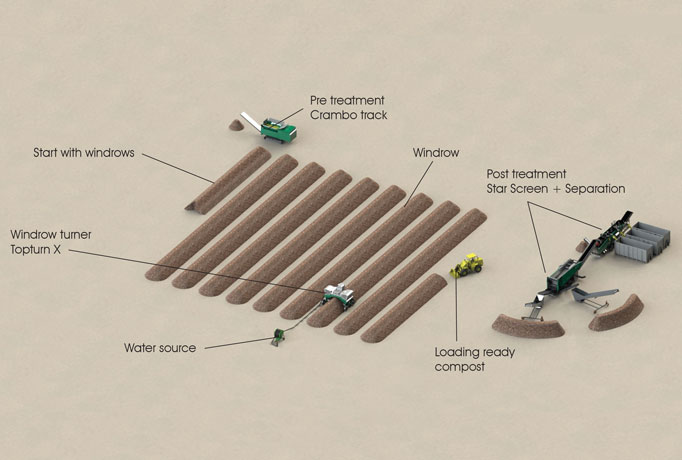 HOW THE KOMPTECH PROCESS WORKS
SHRED FOR BETTER AIRFLOW: Using a low-speed shredder on the front end, like the Komptech Crambo, creates a product with a greater surface area that increases airflow inside the windrow for more consistent decomposition.
MIX THE PERFECT WINDROW: Komptech turners mix rows from the outside in, leaving behind windrows with a desired "chimney effect" that helps to increase temperatures, reduce composting times and minimize odors.
SCREEN FOR UNIFORMITY: Screening compost with a star screen like the Multistar XL3 helps ensure high-quality, uniform end products while preparing materials, even wet, for contaminant removal.
REMOVE CONTAMINANTS: The Komptech Hurrikan S windsifter removes unwanted materials that reduce the quality of finished compost like film plastics, ferrous metals and stones for a higher quality end product.
"We've made investments in equipment that have allowed us to keep this place running smoothly."
— Andy Klink, Site Manager, Midwest Organics Recycling
IS THE 4-STEP PROCESS RIGHT FOR YOU?
Book a complimentary consultation to find out.
We are taking appointment reservations for 30-minute, one-on-one consultations with our Komptech organics waste technology experts. Reserve your consultation now!
Each consultation is an opportunity for commercial composters to:
Discuss their unique facility and operational process needs with organics waste industry experts and receive helpful answers in real-time.
Gain insight on the latest organics waste processing solutions available to improve process efficiency and finished compost product quality.
Learn more about low-speed shredding, turning, star screening and windsifting technology and how they integrate into existing organics operations.
Schedule future product demonstrations.
CONSULTATION REQUEST FORM:
To request your complimentary consultation appointment, please complete the form below. A Komptech Americas representative will contact you to confirm the scheduled day and time and provide additional details. We look forward to working with you!
"*" indicates required fields