Cribus 2800
Trommel Screen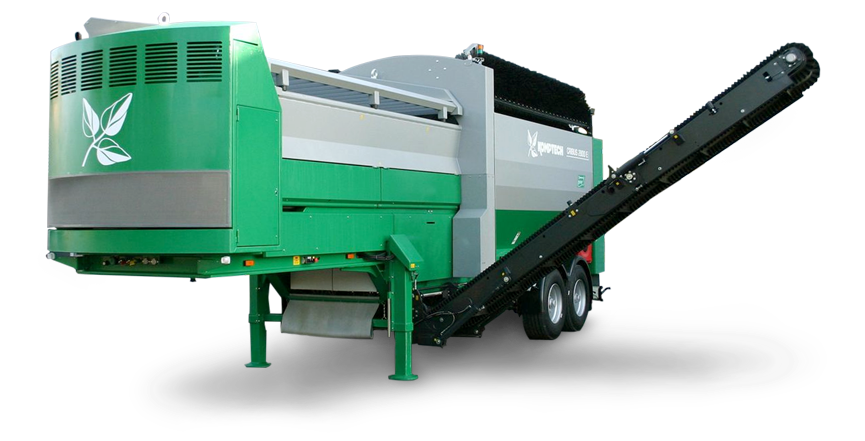 The Compact Standard
The Komptech Cribus 2800 is a trommel screen with the largest screening surface (301 ft2) for its overall length. Its large 7'2" diameter drum delivers consistent, efficient screening throughput capacity of up to 222 yd3/hr depending on material. The generous spacing between the drum and sidewalls ensures trouble-free screening, even for coarse materials. With its compact overall machine length, the Cribus 2800 enables a second drum to be transported in the same load. Available interchangeable screening segments made of wear-resistant, spring steel are especially beneficial for multi-site use, as different screen mesh sizes can be transported with the screening machine.
Download Cribus 2800 Product Sheet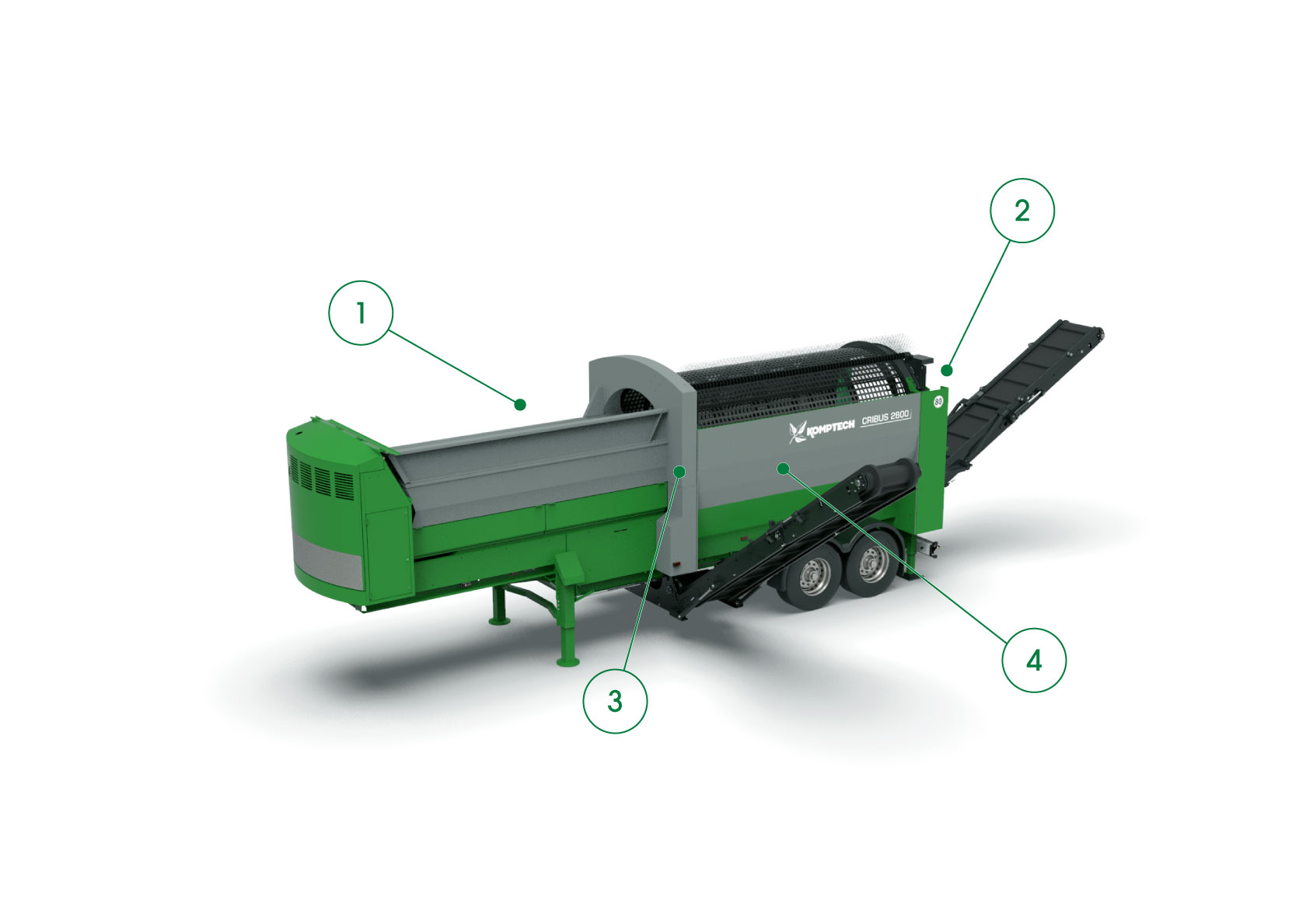 Komptech Cribus 2800 Core Features
1

More Performance Per Yard

With a compact 34'9" machine length, the Cribus 2800 boasts a 301 ft2 screening area made possible by a large 7'2" drum diameter. This eliminates material clumping between hopper and drum, producing a higher specific throughput (yd³ per ft² screening area) than competitors.
2

Built for Multiple Applications

Steep sidewalls and a wide hopper belt prevent material bridging and enable screening of a broad variety of materials. The large drum diameter and generous clearance to the sidewalls allow smooth screening of large fractions, even with the 3.9-inch screen hole size.
3

Efficient Drum Drive

The new, maintenance-free, friction wheel drive with patented WHEELGRIP anti-slip technology delivers maximum efficiency and minimum wear and service costs, since there are no chains, gears or additional bearings.
4

5-Minute Drum Change

Gain full drum access with a simple fold down of the sidewall. To change the drum, the operator simply runs the hopper out of the drum, presses a button to raise the drum, and then removes it with a forklift or hoist. Experienced operators can do this in a matter of minutes.
The Komptech Cribus 2800 is Built to Efficiently Screen
Aggregate/Dirt/Rock
C&D Fines
Compost
Contaminated Soils
Food Waste
Mulch
MSW
Wood Waste
The Right Komptech Trommel Screen For The Job
Five trommel screen models are available to choose from and are built for a variety of application types and performance needs.
| Model | Diesel Engine / Horsepower | Hopper Volume / Drum Diameter / Effective Screening Area | Max Throughput |
| --- | --- | --- | --- |
| Primus | Perkins Tier 4F / 70 HP | >4.0 yd3 / 4'9" / 175 ft2 | up to 90 yd3/hr |
| Nemus 2700 | Perkins Tier 4F / 99 HP | >6.5 yd3 / 6'7" / 323 ft2 | up to 230 yd3/hr |
| Cribus 2800 | JCB / 74 HP | >6.5 yd3 / 7'2" / 301 ft2 | up to 222 yd3/hr |
| Cribus 3800 | JCB / 74 HP | >6.5 yd3 / 7'2" / 409 ft2 | up to 287 yd3/hr |
| Cribus 5000 | JCB / 74 HP | >7.8 yd3 / 7'2" / 538 ft2 | up to 353 yd3/hr |
Consider Us Working Partners
We won't just sell you a screening machine. Instead, we focus on understanding your business' unique material processing challenges and then use our expertise to help guide you toward the right solutions to meet your needs.
How We Work
+ Personal Site Visits and Face-to-Face Consultation
+ In-depth Workflow Analysis and Expert Solution Guidance
+ Fast OEM Parts and Technical Service Support
+ Extensive After Sales Service and Maintenance Education