Multistar One
Star Screen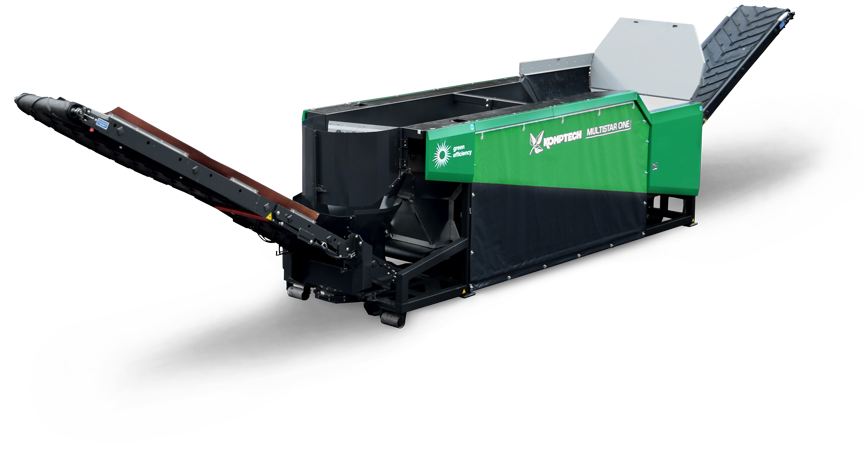 COMPACT AND FLEXIBLE WOOD WASTE SCREENING
The Komptech Multistar One is an energy-efficient, electrically-driven star screen machine that delivers economical material screening with a small, semi-mobile footprint. Whether you're processing wood waste for mulch, organic waste for compost or soil, the Multistar One efficiently produces precise, 2-fraction separation of materials fed directly from a shredder while automatically returning the Overs fraction directly to the shredder for further processing. The Multistar One is built on a robust yet compact hook-lift frame with conveyors designed for flexible positioning. The low-wear screen deck and electric power ensure high-performance, economical operation.
Download Multistar One Product Sheet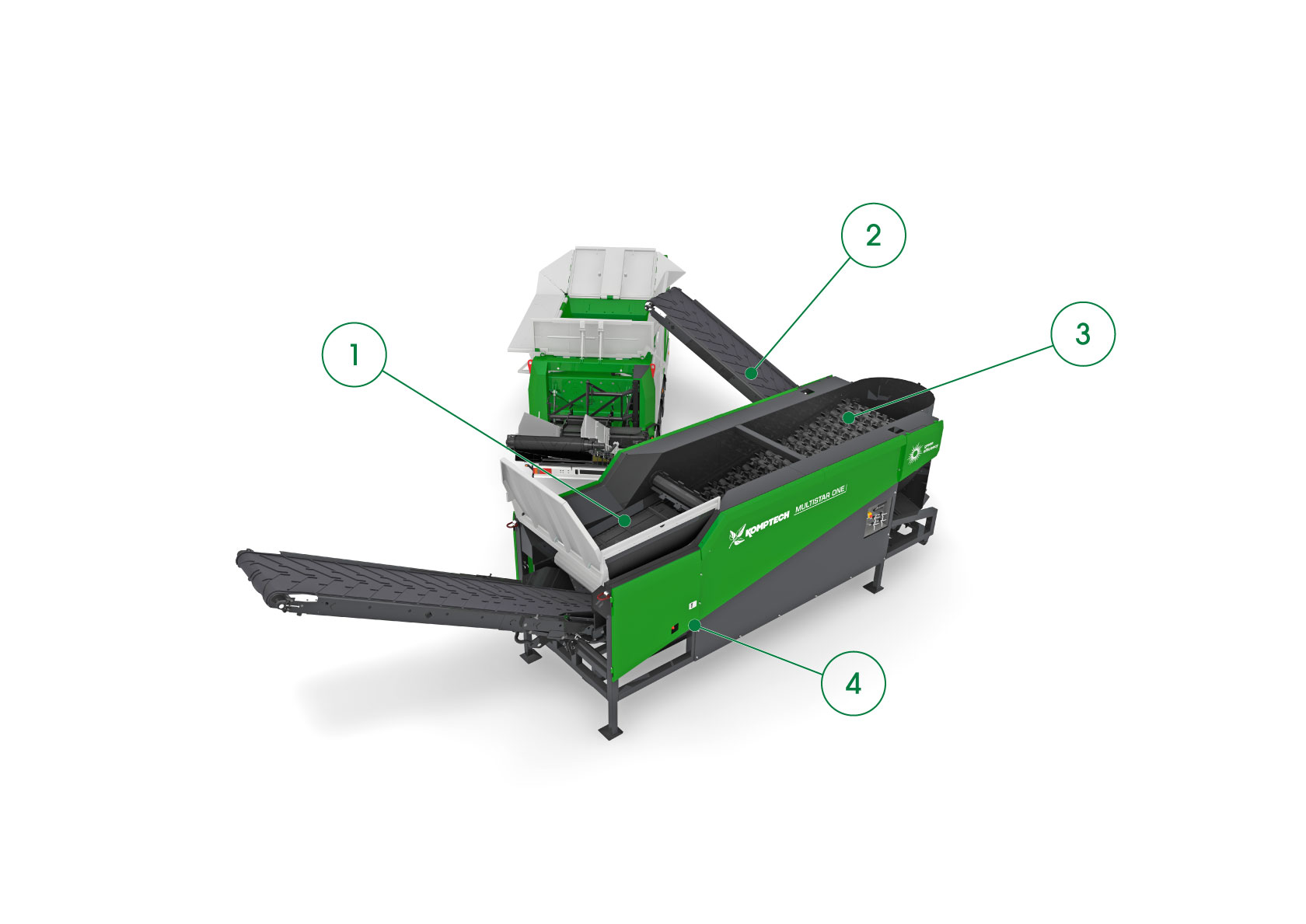 Komptech Multistar One Core Features
1

Efficient Feed Hopper

Feed material directly from a shredder into the large 3.3 yd3 hopper with a scraper conveyor and active feed roller that delivers even and precise material to the generously sized screen deck for reliable screening production.
2

Swivel Return Conveyor

The screened overs fall through a chute feeding the return conveyor that swivels up to 220 degrees. With a pile height of over 13 feet, returning material to any Komptech shredder is efficient and direct.
3

Star Wear Protection

Komptech's CLEANSTAR system contains elastic stars with wear-resistant cleaning elements that clear the screen gap with each rotation. Wear costs are reduced through individually replaceable stars and cleaning elements.
4

Flexible Energy Supply

The Multistar One's electrically driven screen deck motors can be powered from the grid or a combination of an additional hydraulic pump on the external shredder and hydraulic generator on the Multistar One.
The Komptech Multistar One is Built to Efficiently Screen
Compost
Forestry Residue
Green Waste
Land Clearing
Wood Chips/Bark
Wood Waste
The Right Komptech Star Screen For The Job
Four Multistar star screen models are available to choose from and are built for a variety of application types and performance needs.
| Model | Power Source / Horsepower | Transport Dimensions / Weight | Max Throughput |
| --- | --- | --- | --- |
| Multistar One | Hybrid Drive / 25 kW Electric Input | 26'6" x 8'1" x 8'5" / ~18,400 lbs | ~ 262 yd3/hr |
| Multistar S3 | Perkins Gen Set Tier 4F / 64 HP | 26'11" x 8'1" x 8'5" / ~20,000 lbs | ~ 130 yd3/hr |
| Multistar XL3 | Perkins Gen Set Tier 4F / 85 HP | 39'1" x 8'2" x 13'1" / ~44,000 lbs | ~ 400 yd3/hr |
| Multistar XXL-2 | Perkins Gen Set Tier 4F / 64 HP | 44'11" x 8'5" x 12'10" / ~44,000 lbs | ~ 650 yd3/hr |
Consider Us Working Partners
We won't just sell you a screening machine. Instead, we focus on understanding your business' unique material processing challenges and then use our expertise to help guide you toward the right solutions to meet your needs.
How We Work
+ Personal Site Visits and Face-to-Face Consultation
+ In-depth Workflow Analysis and Expert Solution Guidance
+ Fast OEM Parts and Technical Service Support
+ Extensive After Sales Service and Maintenance Education