Nemus 2700
Trommel Screen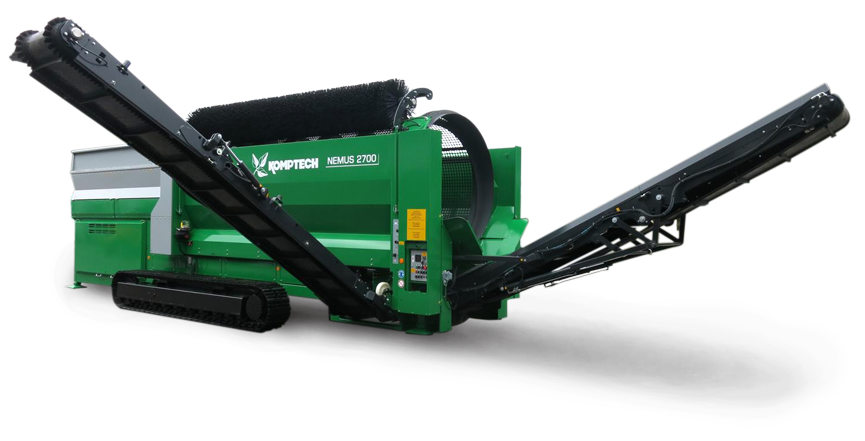 Flexible Workhorse
The Komptech Nemus 2700 is a heavy-duty, diesel hydraulic, mobile trommel screen, available in your choice of track or wheeled chassis, that efficiently screens most any material from heavy soil to mulch to compost. The Nemus features a large, 6.5 yd3 steep walled hopper and throughput capacity of up to 230 yd3/hr. The swappable screen drum features 323 ft2 of screening area and the improved material feed and high-performance discharge system harmonize perfectly with the proven, robust diesel-hydraulic drive. Operation is easy and safe, with electronic controls and graphical display screen ideally positioned for visible control.
Download Trommel Screen Information Sheet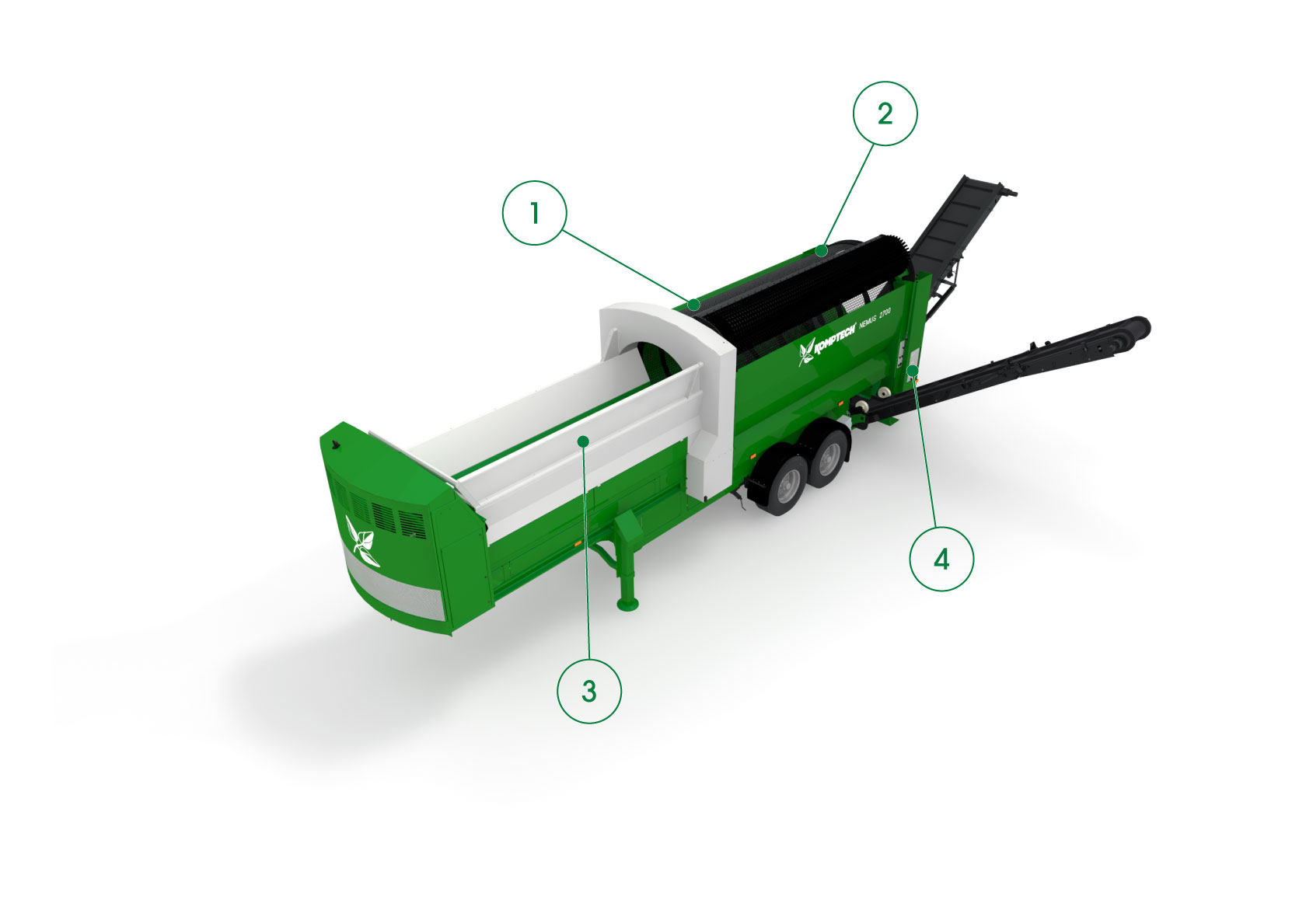 Komptech Nemus 2700 Core Features
1

A Better Drum

Komptech's punch plate + spiral drum design delivers increased screening area with a smaller footprint, lasting longer and delivering better throughput than incline wire mesh drums.
2

Horizontal Benefits

The horizontal drum prevents spearing and receives less abuse because materials ride in the drum smoother. It's also easier to switch between drums than change screen segments.
3

Smooth Infeed

Steep hopper walls with extensions that can be fitted on the right or left, plus a low-wear DRUMGRIP drive with the toughness of a chain and the smoothness of a friction drive.
4

Easy Operation

Intuitive and self-explanatory electronic control panel with a visual display enables easy user operation and quick maintenance access.
The Komptech Nemus 2700 is Built to Efficiently Screen
Aggregate/Dirt/Rock
C&D Fines
Compost
Contaminated Soils
Food Waste
Mulch
MSW
Wood Waste
The Right Komptech Trommel Screen For The Job
Two trommel screen models are available to choose from and are built for a variety of application types and performance needs.
| Model | Diesel Engine / Horsepower | Hopper Volume / Drum Diameter / Effective Screening Area | Max Throughput |
| --- | --- | --- | --- |
| Primus | Perkins Tier 4F / 70 HP | >4.0 yd3 / 4'9" / 175 ft2 | up to 90 yd3/hr |
| Nemus 2700 | Perkins Tier 4F / 99 HP | >6.5 yd3 / 6'7" / 323 ft2 | up to 230 yd3/hr |
Consider Us Working Partners
We won't just sell you a screening machine. Instead, we focus on understanding your business' unique material processing challenges and then use our expertise to help guide you toward the right solutions to meet your needs.
How We Work
+ Personal Site Visits and Face-to-Face Consultation
+ In-depth Workflow Analysis and Expert Solution Guidance
+ Fast OEM Parts and Technical Service Support
+ Extensive After Sales Service and Maintenance Education