Primus
Trommel Screen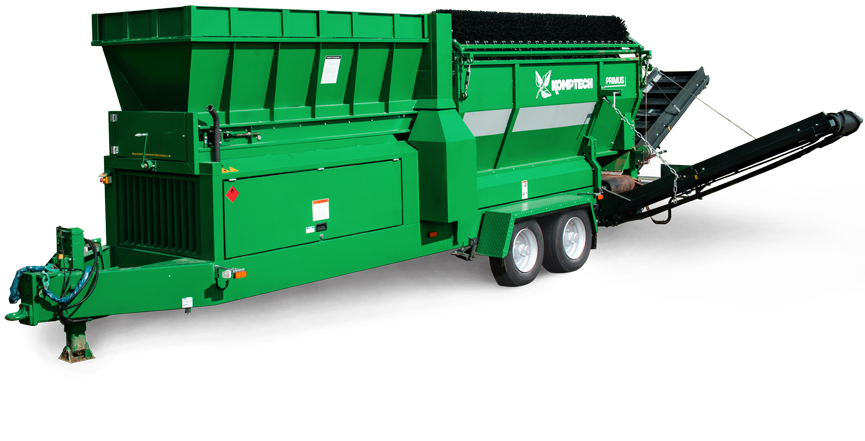 Robust and Reliable
The Komptech Primus is a heavy-duty, mobile trommel screen machine built for the small to medium-sized compost operation that excels in reliable screening performance and operating efficiency. The Primus features a large, 4 yd3 steep side walled hopper to help prevent material bridging, and throughput capacity of up to 90 yd3/hr. The easily accessible and simple to change screen drum system features 175 ft2 of effective screening area. The Primus can also be equipped with a grizzly or wind sifter option depending on your needs.
Download Trommel Screen Information Sheet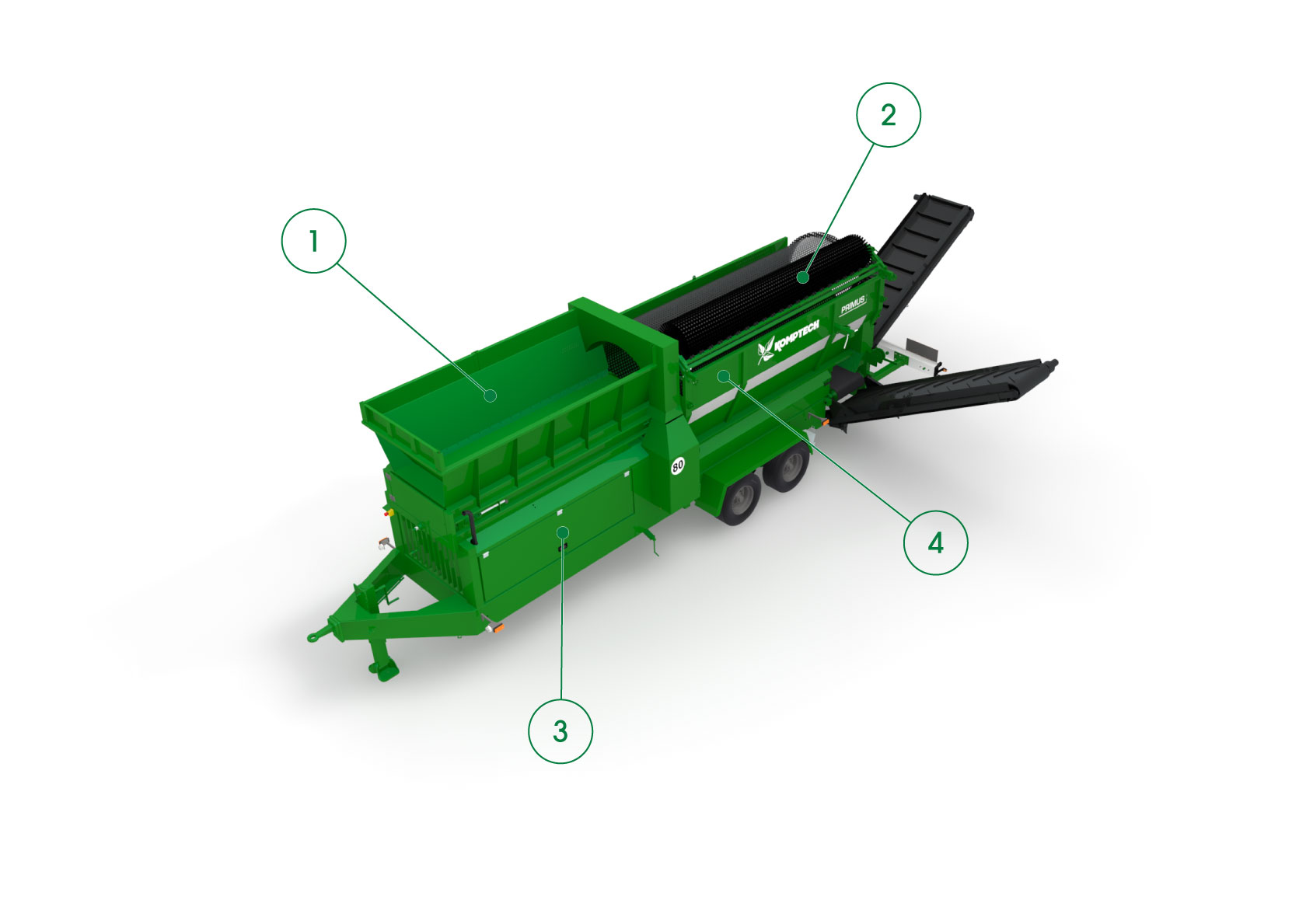 Komptech Primus Core Features
1

Easy Feeding

Steep side walls in the large 4 yd3 hopper prevent materials from bridging during infeed, allowing consistent flow, even with wet material.
2

Clean Screening

A freely revolving circular brush cleans the screen drum. The position opposite the screen side presents no risk of contamination by the screen material.
3

Efficiently Driven

With its efficient 70 hp Perkins diesel engine, the Primus can also be equipped with a grizzly or wind sifter option for light film plastic removal requirements.
4

User Friendly Access

The Primus side door opens so operators have quick and easy access for cleaning and drum changing.
The Komptech Primus is Built to Efficiently Process
Aggregate/Dirt/Rock
C&D Fines
Compost
Contaminated Soils
Food Waste
Mulch
MSW
Wood Waste
The Right Komptech Trommel Screen For The Job
Two trommel screen models are available to choose from and are built for a variety of application types and performance needs.
| Model | Diesel Engine / Horsepower | Hopper Volume / Drum Diameter / Effective Screening Area | Max Throughput |
| --- | --- | --- | --- |
| Primus | Perkins Tier 4F / 70 HP | >4.0 yd3 / 4'9" / 175 ft2 | up to 90 yd3/hr |
| Nemus 2700 | Perkins Tier 4F / 99 HP | >6.5 yd3 / 6'7" / 323 ft2 | up to 230 yd3/hr |
Consider Us Working Partners
We won't just sell you a screening machine. Instead, we focus on understanding your business' unique material processing challenges and then use our expertise to help guide you toward the right solutions to meet your needs.
How We Work
+ Personal Site Visits and Face-to-Face Consultation
+ In-depth Workflow Analysis and Expert Solution Guidance
+ Fast OEM Parts and Technical Service Support
+ Extensive After Sales Service and Maintenance Education