Stonefex
Stone Separator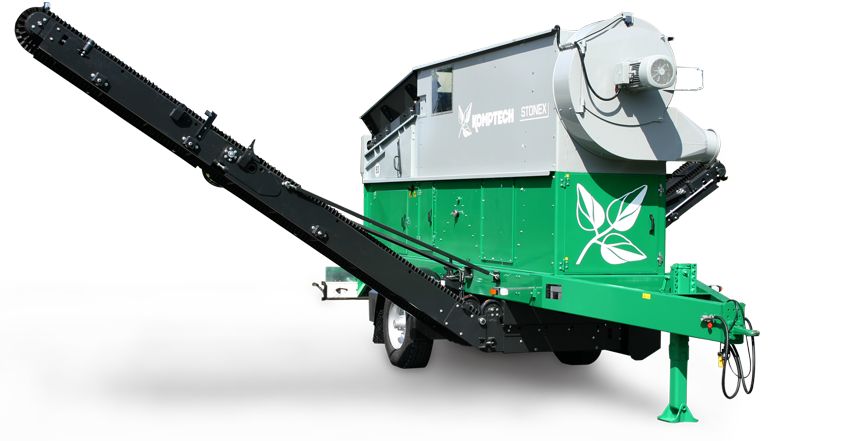 Stone Separation
Using a patented system of pressure and suction blowers, the Komptech Stonefex generates exactly the right airflow within the separation chamber to remove up to 95% of stones and heavy objects from your material at a throughput rate of up to 130 yd3/hr. Output that was previously difficult to use due to high concentration of stones, can now be easily processed into fuel. Cleaner biomass processing equates to increased customer demand and higher prices for your product.
Download Stonefex Product Sheet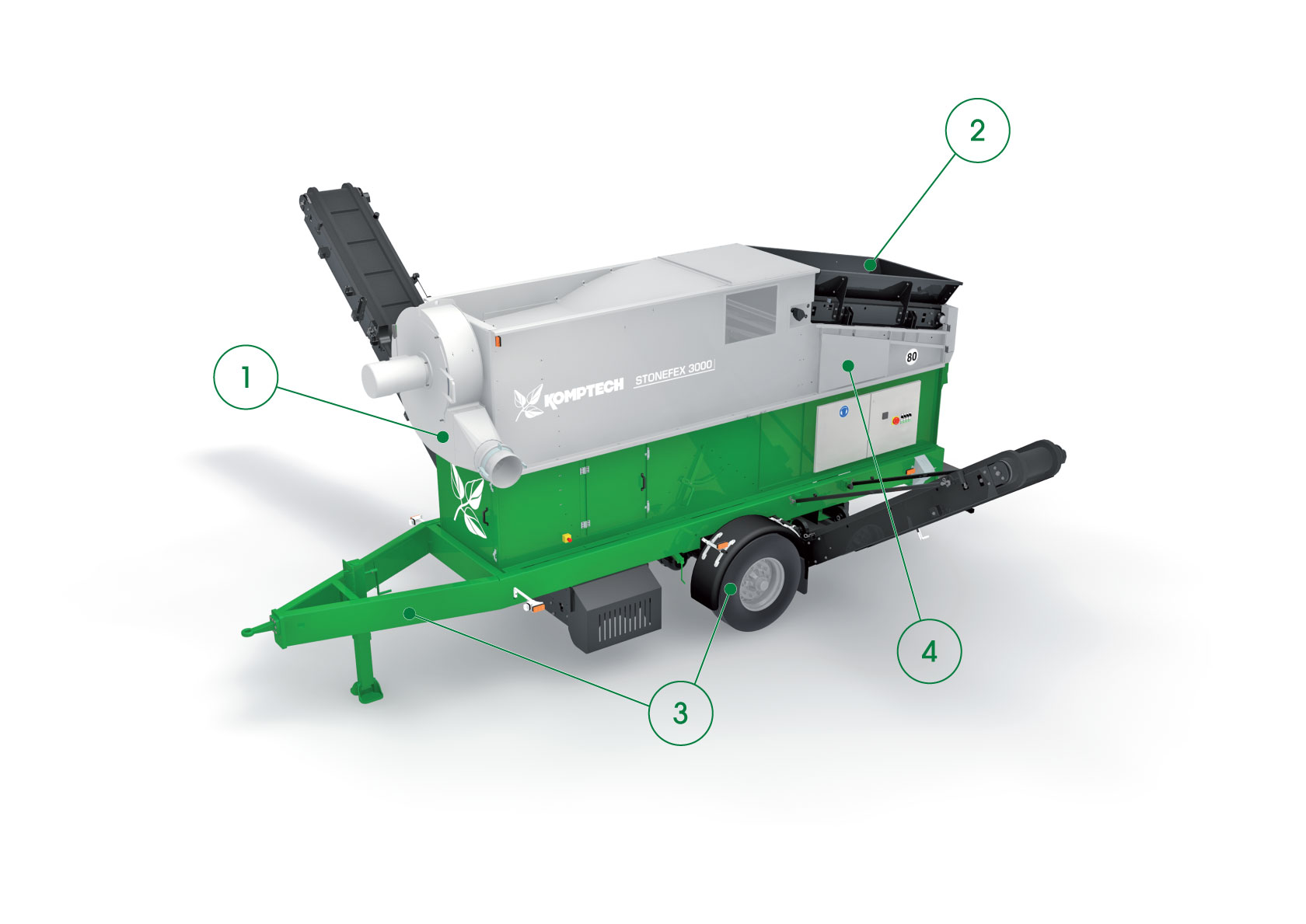 Komptech Stonefex Core Features
1

Efficient Separation

In the expansion chamber, a system of pressure and suction blowers separates the material into a stone fraction and a cleaned usable fraction, which conveyors take out to opposite sides.
2

Intake Conveyor

A wide intake conveyor with adjustable speed allows for the easy loading of material, and makes the Stonefex compatible with a variety of machines and systems.
3

Simple Mobility

Maximum mobility thanks to four rugged wheels and a simple hitch hook up, and independent operation with on-board diesel power unit.
4

Easy Maintenance

Large access panels to the separation chamber, the motor compartment and the swiveling suction blower enable simple and convenient maintenance.
The Komptech Stonefex is Built to Efficiently Separate
Aggregate
Asphalt
Brick
Concrete
Tile
Stone
The Right Komptech Separator For The Job
Three separator models are available to choose from and are built for a variety of application types and performance needs.
| Model | Material Type | Drive / Horsepower | Max Throughput |
| --- | --- | --- | --- |
| Hurrikan S | Light Plastics | JCB Gen Set Tier 4F / 80 HP | up to 100 yd3/hr |
| Ballistor | 2D, 3D, and Fines | Electric / from 7.3 HP to 14.7 HP | from 80 yd3/hr to 210 yd3/hr |
| Stonefex | Stones and Concrete | JCB Gen Set Tier 4F / 55 HP | up to 130 yd3/hr |
Consider Us Working Partners
We won't just sell you a separating machine. Instead, we focus on understanding your business' unique material processing challenges and then use our expertise to help guide you toward the right solutions to meet your needs.
How We Work
+ Personal Site Visits and Face-to-Face Consultation
+ In-depth Workflow Analysis and Expert Solution Guidance
+ Fast OEM Parts and Technical Service Support
+ Extensive After Sales Service and Maintenance Education