Terminator
Single-Shaft Waste Shredder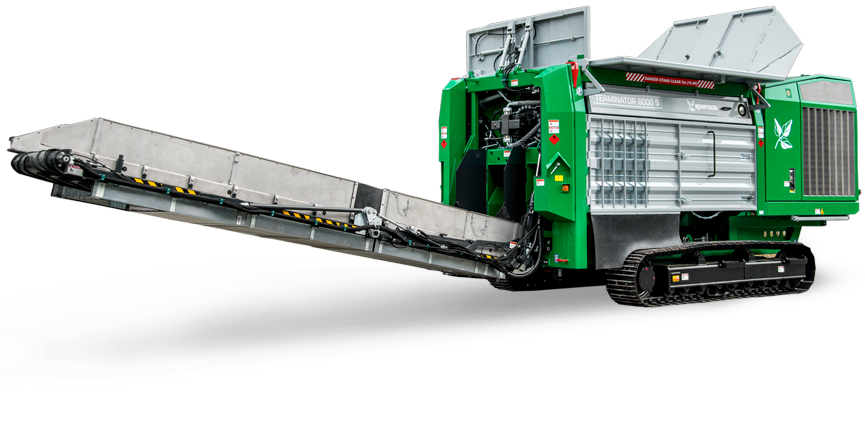 The Shredding Machine Built For Solid Waste
The Terminator is a low-speed, high-torque single-shaft industrial shredder designed to process nearly all types of difficult waste, including heavy C&D debris, bulky waste, white goods, mattresses, tires and municipal solid waste (MSW). This heavy duty, mobile shredding machine is powered by a modern CAT® Tier 4 Final engine delivering up to 600 HP to the drum. The hydraulic drum drive with load dependent speed control, creates maximum shredding force, and can reverse at any time to prevent blockages, redistribute material or clean the drum. The continuous cutting gap adjustment allows for the precise setting of desired particle size.
Download Terminator Product Sheet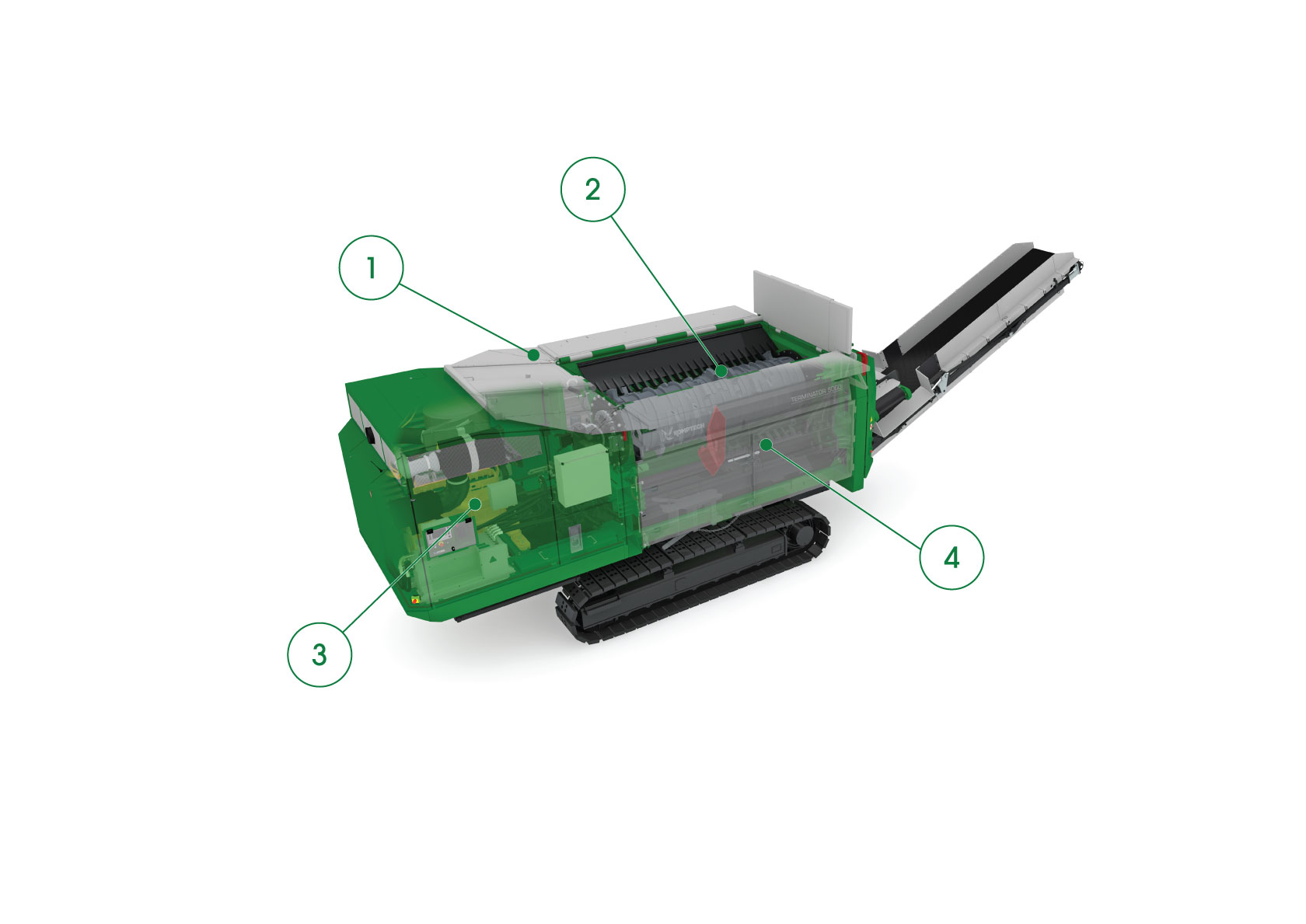 Terminator Single-Shaft Shredder Core Features
1

Production-Ready

The Terminator features a remote controlled hopper with an 11-foot feed opening into one of the largest shredding units in the industry to shred waste materials faster.
2

Intelligent Drum Design

Heavy duty rotating drum with overload protection and reversing function features robust teeth in spiral arrangement for maximum cutting and tearing while keeping shredding even.
3

Powerful Drive System

The Terminator line of shredders come equipped with a powerful, modern CAT® engine with up to 600 HP and Tier 4 Final emission standard.
4

Configurable and Variable

Achieve a variety of particle sizes with the adjustable cutting gap and counter comb, and swap shredding units to configure from coarse pre-shredding to defined shredding.
The Terminator is Built to Efficiently Shred
Bulky Waste
Carpet
Commercial Waste
Heavy C&D
Mattresses
Municipal Solid Waste
Tires
White Goods
Wood Waste
The Right Komptech Shredder For The Job
Three Terminator models are available to choose from and are built for a variety of load sizes and waste types.
| Model | Engine / Horsepower | Transport Dimensions / Weight | Max Throughput |
| --- | --- | --- | --- |
| TERMINATOR 3400 S | Diesel Engine CAT® C9 Tier 4F / 330 HP | 25'8" x 9'4" x 11'10" / 57,000 lbs | up to 55 tons/hr |
| TERMINATOR 6000 S | Diesel Engine CAT® C18 Tier 4F / 600 HP | 25'8" x 9'4" x 11'10" / 60,000 lbs | up to 110 tons/hr |
Consider Us Working Partners
We won't just sell you a machine. Instead, we focus on understanding your unique business challenges and then use our industry and product expertise to help guide you toward the right solutions to meet your needs.
How We Work
+ Personal Site Visits and Face-to-Face Consultation
+ In-depth Workflow Analysis and Expert Solution Guidance
+ Fast OEM Parts and Technical Service Support
+ Extensive After Sales Service and Maintenance Education