Topturn X6000
Compost Windrow Turner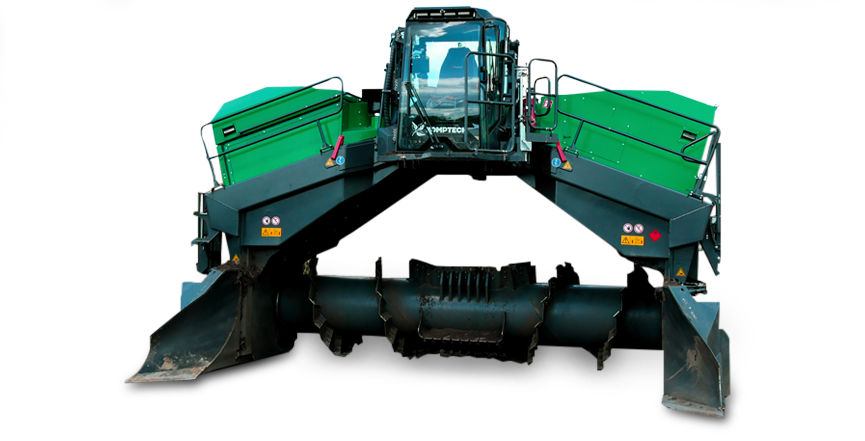 Form Meets Function
The Topturn X6000 is the latest in the Komptech line of modern technology compost windrow turners. With a sturdy, buckle-resistant frame design, the X6000 is built to perform in heavy-duty, commercial composting applications. Available in both wheel and track chassis, this turner features a powerful CAT® C9.3B Tier 4f/STAGE V engine and large 4'7" diameter turning drum. The generously dimensioned engine cooling system and hydraulics keep them running smoothly under all conditions. Additional highlights include a hydraulically operated cabin lift, pressurized cabin with air conditioning, massive plow blades with 20'4" windrow width, optional rear-view 360-degree camera, optional windrow watering system and more.
Download Topturn X6000 Product Sheet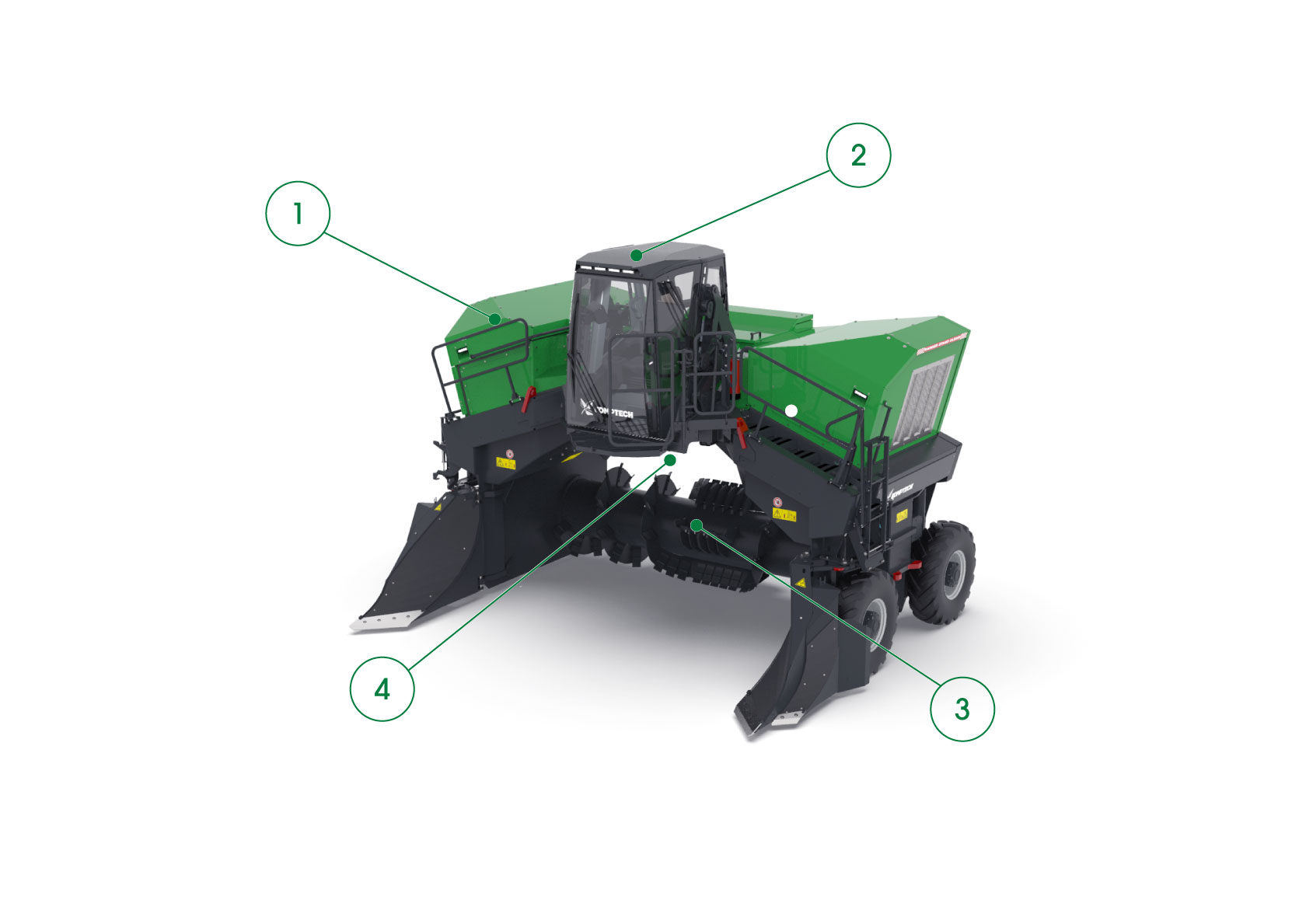 Komptech Topturn X6000 Core Features
1

Simplified Maintenance

Enjoy safer, more convenient maintenance access with body panels that convert into roomy platforms, special service doors in the tunnel and drum bearings that are accessible from the outside of the machine.
2

Ready For Lift-Off

Safe, convenient operator cabin entry takes place on the ground with two hydraulic lift arms that elevate the cab to working position located centrally over the middle of the windrow. In transport position, the turner is very compact, simplifying multi-site use.
3

Designed to Turn Anything

The 4' 7'' diameter, hydraulically driven turning drum is mounted on the heavy duty, buckle-resistant frame for enhanced stability. When required, the frame together with the drum can be raised 1'4" on each side of the chassis with a central telescopic unit.
4

Options for Enhancement

Additional options include a watering system which infuses water directly into the center of the windrow while turning. Additionally, there is a patented scraper device which ensures the lowermost windrow ground layer, a potential source of odors, is not left behind.
The Komptech Topturn X6000 is Built to Efficiently Process
Biowaste
Contaminated Soils
Food Waste
Green Waste
Mulch Materials
Manure
MSW Composting
Ore Mixing
Sewage Sludge
The Right Komptech Turner For The Job
Four Topturn X-Series models are available to choose from and are built for a variety of application types and performance needs.
Model
Engine / Horsepower
Transport Dimensions
Max Windrow Dimensions (WxH) / Throughput

Topturn X4500

Diesel CAT® C7.1 Tier 4F / 275 HP
Wheel - 16'2" x 9'10" x 10'11"
Track - 16'2" x 8'4" x 10'10"
14'9" x 7'3" / up to 3,900 yd3/hr

Topturn X5000

Diesel CAT® C9 Tier 4F / 330 HP
Wheel - 17'1" x 9'10" x 10'9"
Track - 17'11" x 8'4" x 10'8"
16'5" x 7'3" / up to 5,200 yd3/hr

Topturn X63

Diesel CAT® C13 Tier 4F / 390 HP
Wheel - 20'2" x 9'10" x 11'11""
Track - 20'2" x 8'4" x 11'10"
18'8" x 8'6" / up to 5,800 yd3/hr

Topturn X6000

Diesel CAT® C9.3B Tier 4F / 420 HP
Wheel - 20'9" x 9'10" x 12'
Track - 20'9" x 8'4" x 11'11"
19'8" x 8'6" / up to 6,540 yd3/hr
Consider Us Working Partners
We won't just sell you a windrow turner. Instead, we focus on understanding your unique compost business challenges and then use our industry and product expertise to help guide you toward the right solutions to meet your needs.
How We Work
+ Personal Site Visits and Face-to-Face Consultation
+ In-depth Workflow Analysis and Expert Solution Guidance
+ Fast OEM Parts and Technical Service Support
+ Extensive After Sales Service and Maintenance Education