The 2018 State of the (Recycling) Union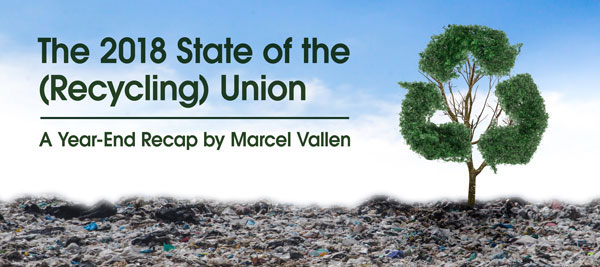 A Recap of 2018 From Marcel Vallen, President and CEO of Komptech Americas and Plexus Recycling Technologies
As 2018 winds to a close, Komptech Americas and sister company, Plexus Recycling Technologies, are both experiencing the best year in each organization's history. This year, while both teams worked to deliver more than 100 units to the North American market, significant changes were taking place throughout the waste and recycling industry.
CHINA HITS THE "RESET" BUTTON
In early 2018, most of North America's waste and recycling commodity exports came to a sudden halt when China implemented an import ban on mixed paper and mixed plastics. In effect, China declared that they had had enough of being the "landfill" of the world. Personally, I was never in favor of this waste export strategy. In my estimate, more than 50% of the new products we import from China contain recycled plastics and other commodities originally shipped from the U.S. to China. If you look solely at the carbon footprint of this process, it makes little sense to ship recycled plastic and paper thousands of miles away, to then buy and ship it back to North America in the form of new clothing, cars, toys, etc.
Somebody once told me that China's willingness to accept our waste allowed us to become 'lazy' in our recycling efforts. Most recycling systems in North America are operating far above their designed capacities. This causes the quality of recycled commodities to suffer. I believe it is time for us to produce domestic quality recycled products in North America. By doing so, we will create additional jobs and lower our overall carbon footprint.
BUILDING C&D MARKETS
In 2018, the Construction and Demolition (C&D) market showed the most growth in over a decade. However, local markets for recycled products remained difficult to find due to a lack of regulations in place. As Europe has proven, if our government would introduce a tax on every ton of waste that goes into the landfill, then use the tax dollars to stimulate C&D recycling, the industry will grow to the next level. Thermal recycling into liquid fuels or secondary fuel for cement kilns or electric power generation are markets where I would foresee growth to be strong, as well as the production of liquid fuel or CNG from waste.
SINGLE STREAM SOLUTIONS
Many companies that recycle plastic in single-stream materials recovery facilities (MRFs) complain about the number of different types of plastics and/or packaging that contain composites of different materials, found in single-stream waste. To help alleviate this problem, improved legislation is one possible solution, which can only be implemented with the help of our government (I hope they are reading this).
In addition, modern technologies like the Komptech Ballistor ballistic separator and the ZenRobotics Artificial Intelligence (AI) powered sorting robots are key components when designing new single-stream MRFs or state-of-the-art C&D waste processing systems. In fact, in 2018 we sold over 100 stationary and mobile recycling equipment units into the North American market, delivering enough capacity to recycle roughly 4,000,000 tons of waste annually. That is a significant step in the right direction.
AUTOMATION IS KEY
In 2018, Plexus sold the first ZenRobotics Heavy Picker waste sorting robot into the scrap industry. This robust, robotic picking system will be used in the production of domestic clean scrap metal that can be used in local steel mills to make new products here in the United States. We look to deliver many more ZenRobotics Heavy Picker units to the scrap market in 2019.
In addition, the new ZenRobotics Fast Picker is proving to be an integral automation component in single-stream MRFs. The first four Fast Picker units are scheduled to go into MRF operation in early 2019.
RECYCLING SMARTER
With tipping fees and prices for sorted commodities remaining mostly fixed and dictated by supply and demand market conditions, processors need to be smarter in the middle in order to make more money. Looking ahead, waste processors need to look beyond making A++ quality sorted commodities and focus on their process: OpEx versus CapEx.
Smarter recycling to produce domestic, reusable commodities, is the future. Those who do not invest today in the latest waste processing technologies and automation will be left behind, finding themselves no longer as profitable, possibly as soon as 2020. The trends clearly show that companies that choose to invest in new technologies and automation have an ROI that is typically less than 4 years on a multi-million dollar investment. They are future-ready and will survive and outlast anybody in the business.
IN CLOSING
As I look back on this past year, I would like to say a very special thank you to all our customers, OEMs, dealers, and vendors for supporting us throughout 2018. You're a major component behind our success. Without your dedication and loyalty, our companies wouldn't be in the great place we are right now. Finally, I want to thank the Komptech Americas and Plexus teams for their never-ending efforts to bring 'technology for a better environment' to the North American market.
Merry Christmas and a happy and prosperous New Year to everyone. I hope to see you all in 2019!
Marcel Vallen, President and CEO
Komptech Americas and Plexus Recycling Technologies