After Sales Process Statement (COVID-19)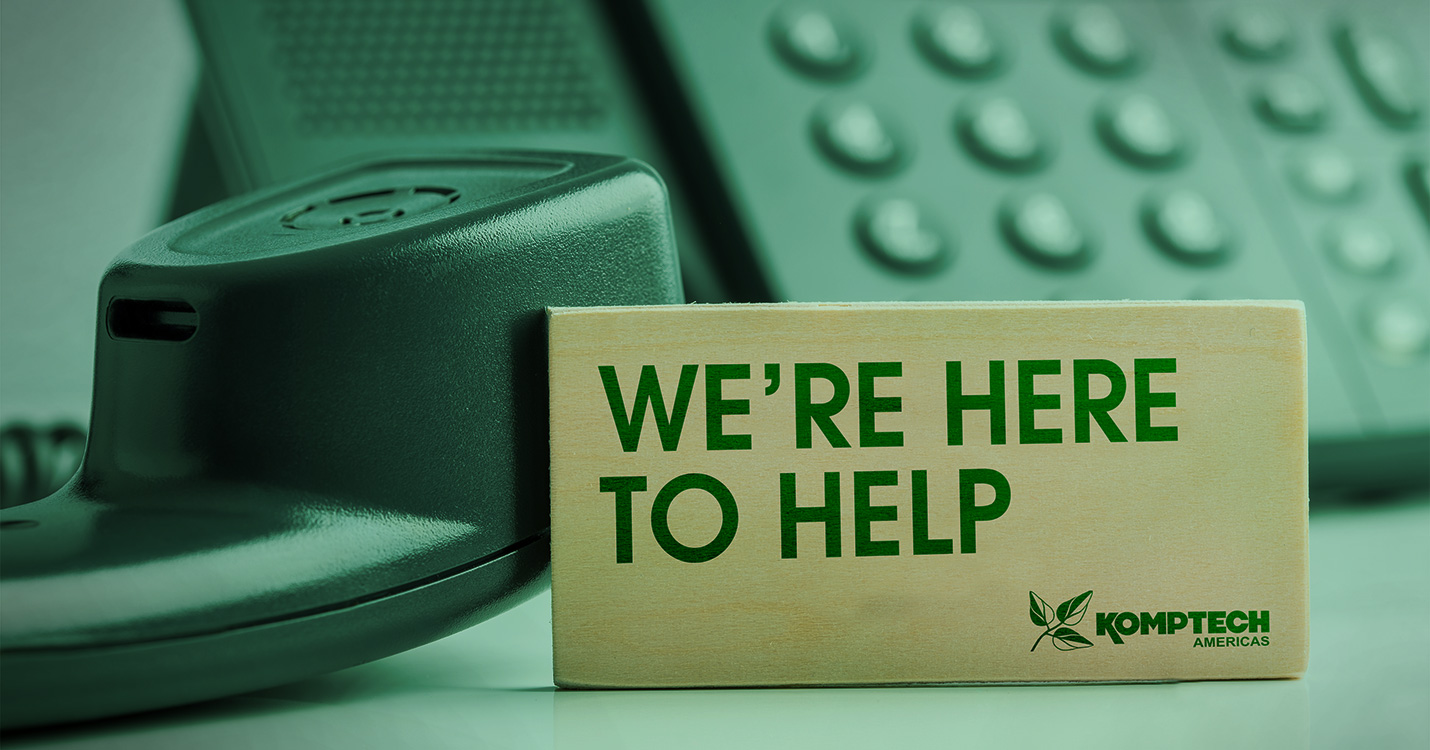 As part of our efforts to adhere to the recommendations of the Centers for Disease Control and Prevention (CDC) for maintaining a safe workplace, Komptech Americas has modified a few internal processes. The changes outlined below will help us to continue offering efficient after sales support to our network of dealers and customers.
OFFICE HOURS
Komptech Americas office hours have temporarily changed until further notice. We will be open Monday through Friday from 7:00AM–5:00PM (Mountain Time).
PARTS DEPARTMENT
We have divided our internal After Sales staff into two teams of three people. Chad Lomeli, Warehouse Manager, will head one team. Auguie Henry, After Sales Manager, will head the second team. Each team consists of a manager, shipper/receiver and inside parts sales representative. Each team will work in the office every other day (Mon–Fri) to help maintain adequate social distancing among staff. On alternate work days, teams will work remotely with direct contact access via phone and email. All employee phone extensions are forwarded to their mobile phones. If you are actively working on an order or project with an individual, the process to contact them remains as normal, by calling the main office line at (720) 890-9090.
Parts orders will be processed as normal – communication via phone or email.
Shipping and Receiving will operate with one less person but no delays are expected for shipping parts from our Denver warehouse.
For parts shipments, please note that we will be working according to customers' local work and delivery restrictions.
SERVICE DEPARTMENT
Our service technicians are based out of Colorado, Michigan, Texas and Virginia. At this time, we have limited employee travel to necessary ground travel only. Despite this restriction, our team is fully equipped to provide assistance with technical issues and questions from our dealer network and direct customers. Our normal process for technical assistance remains unchanged.
For technical assistance, please call our main office line at (720) 890-9090. If in-office technical support is unavailable, your call will be transferred to one of our technicians. You may also contact our technicians directly:

Slim Burns: (720) 402-0644
Brian Winschel: (303) 408-9305
Dennis Page: (989) 854-4825
Kyle Preiss: (720) 244-7255

Requests for onsite technical assistance will be evaluated case-by-case.
TRAINING DEPARTMENT
At this point, on-site operations and/or maintenance training for dealers and customers has been temporarily suspended. However, we are offering alternative methods of training for those interested. Skype, Microsoft Teams online meetings and online video conferencing are all available for remote training on the following subjects:
Reading Komptech Schematics
Preventative Maintenances Practices – Utilizing Machine Manuals
Operations and Maintenance Manual Familiarization
If your organization would like to take advantage of this type of remote training, please contact Slim at jburns@komptechamericas.com or (720) 402-0644.